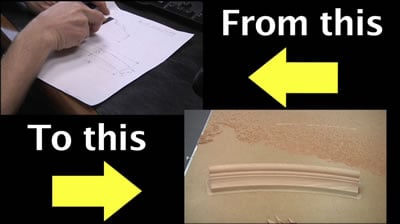 Smart-routers can machine a profile edge without a profile tool, by tracing over the edge multiple times with standard tools. It even works on curved moldings.
This saves a lot for any shop that makes custom moldings by allowing you to use Profile Modeler to quickly create a molding or custom shape from a sketch or drawing with no special shaped tooling required.
Overview: Smart-routers machine a profile edge without a profile tool

In depth: Profile Modeler - from Sketch to Production
Thermwood at AWFS 2013
Thermwood will be demonstrating many of the features of smart-router technology and nested based manufacturing at the 2013 AWFS show on July 24th-27th (Booth #8400). Plan to stop by and check it out, or click the button below to request a personal consultation on how we can help improve your production process.
---
Please click the "Request a Consultation" link above or give us a call at 1-800-533-6901 and we will sit down and show you how all this happens, in detail.