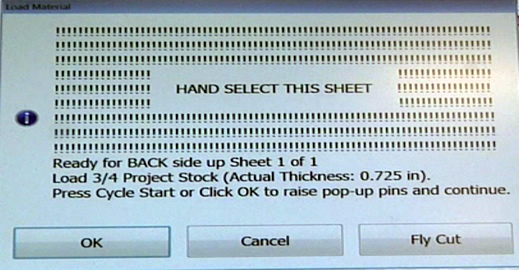 Smart-routers alert you when running critical or prominent parts. Certain parts are prominent on the final product, door and drawer fronts for example.
Smart-routers instruct you to hand select the sheet if it has any of these prominent parts on it. If left to random, it is easy to encounter a flaw or unattractive grain pattern, forcing you to scrap valuable parts. By hand selecting, you can use the best possible material for these important parts.
And since nesting is done right at the machine, it is easy to use material left from previous jobs. At the beginning of a new job, simply scan the label on any material you want to use and the machine nests on it. You can even use material with flaws by nesting around the flaws. This feature alone can save 5-7% of your material cost each year.
Thermwood at AWFS 2013
Thermwood will be demonstrating many of the features of smart-router technology and nested based manufacturing at the 2013 AWFS show on July 24th-27th (Booth #8400). Plan to stop by and check it out, or click the button below to request a personal consultation on how we can help improve your production process.
---
Please click the "Request a Consultation" link above or give us a call at 1-800-533-6901 and we will sit down and show you how all this happens, in detail.