Thermwood Corporation of Dale, Indiana has entered into an agreement with RUAG Space to supply advanced equipment that applies RUAG's revolutionary new insert placement technology. RUAG Space, headquartered in Switzerland, is the leading supplier of products for the space industry in Europe, while also building a strong US presence.
Following the JEC innovation Award in Houston in 2015, RUAG Space has been able to land its first substantial order based on its insert placement technology. This contract anticipates the delivery of structures for 900 mega constellation satellites by the end of 2020. This represents the largest mass production of satellite structures in history.
In November, 2016 RUAG officially opened a new manufacturing facility near Cape Canaveral in Titusville (FL). RUAG Space plans to start manufacturing the satellite structures in early 2017. Comparable to an automotive chassis, this structure serves as the backbone for all other modules on the satellite.

This new facility will utilize Thermwood's new machining and insertion system in a 24/7 manufacturing environment. Apart from the purchase agreement for the next generation of automated machining, potting and insert machines, RUAG also signed an exclusive agreement for North America with Thermwood to provide to third parties this new platform for automated insert placement. The inserts and process licenses will be available from RUAG Space.
Thermwood systems are used in the aerospace industry worldwide to process a large variety of applications for aircraft, spacecraft and the military. Thermwood also offers large scale additive manufacturing systems to these same industries.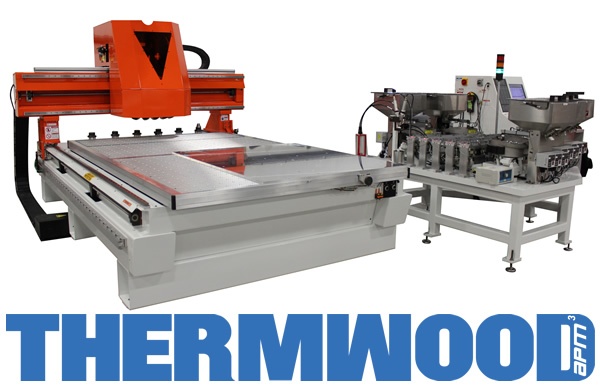 About Thermwood Corporation:
Thermwood Corporation, located in Southern Indiana and established in 1969, offers both three & five axis CNC machining centers ideally suited for the production, fabrication & trimming of wood, plastics, non-ferrous metals, composites and other advanced materials. Thermwood also offers a Large Scale Additive Manufacturing (LSAM) system for 3D printing reinforced thermoplastic composite materials for producing industrial tooling, molds, patterns, masters, plugs and fixtures for various industries. Thermwood is deeply involved in CNC and Additive Manufacturing technologies and development, incorporating a high level of smart control technology in its products.
About RUAG Space:
RUAG Space is Europe's leading supplier of space products to the industry. With 1,200 people employed at 10 locations in Switzerland, Sweden, Austria, Finland and the USA the RUAG Space Division achieved some total sales of 310 million Swiss Francs in 2015. RUAG develops and markets internationally sought-after technology applications in the fields of aerospace and defense for use on land, in the air and in space. 55% of RUAG's products and services are destined for the civil market and 45% for the military market. The Group is headquartered in Berne, Switzerland. It has production sites in Switzerland, Germany, Austria, France, Sweden, Finland, Hungary, Australia and the USA.
---