Molds, for plastics processes, such as thermoforming, blow molding, rotational molding and reaction injection molding are commonly made of aluminum. Often, they are large.
Thermwood has developed a simplified, low cost way of making these large molds, using its new Cut Layer Additive process.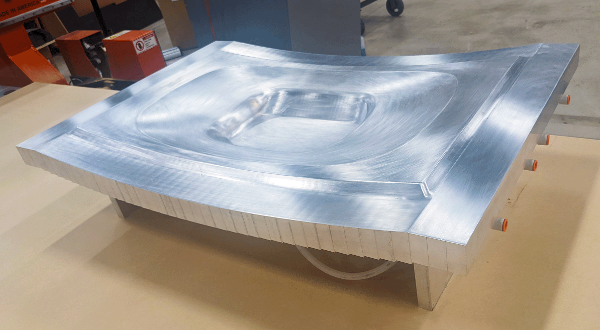 How Does This Work?
Cut Layer Additive works by laminating layers, cut from thick sheets of material, such as aluminum, to create a structure. In addition to building highly efficient structures, the process offers unique capabilities that make it ideal for large plastic molds.
The most important element of a mold is the mold face, essentially the cavity that defines the size and shape of the part. It's the one thing you absolutely have to have.

Depending on the process, other functions may also be needed, such as vacuum, venting and/or temperature control. Adding these functions usually increases complexity and cost, sometimes significantly.

Thermwood's new approach incorporates these functions in a mold face that is only a couple inches thick. So, the entire mold, including all required functions, is just the mold face.

It's simple and less expensive. Cut Layer Additive makes it possible. In this process, the mold face is built using machined aluminum layers, stacked and permanently attached. Since, prior to assembly, each layer is machined individually in a nest, it is possible to include holes or slots so that, when assembled, they match up, creating internal channels or chambers. These void areas in the mold are then accessed by boring holes from underneath into the opening.
Design Flexibility is Incredible
A channel with an access hole on each end can be used to circulate temperature-controlled liquid, to control mold temperature.
An internal chamber can be also be used for vacuum. Small holes are drilled into the chamber, as is normally done with thermoforming molds. Vacuum applied to the chamber then forms the part.
Thin slots can be machined between layers to provide vents, should they be needed for certain processes.
Design flexibility is incredible.
In this way, all required functions can be included in a relatively thin mold face.
For mounting, selected mold layers are extended downward to create standoffs supports.
This means large molds can now be produced at surprisingly low cost. This new approach also supports some advanced features.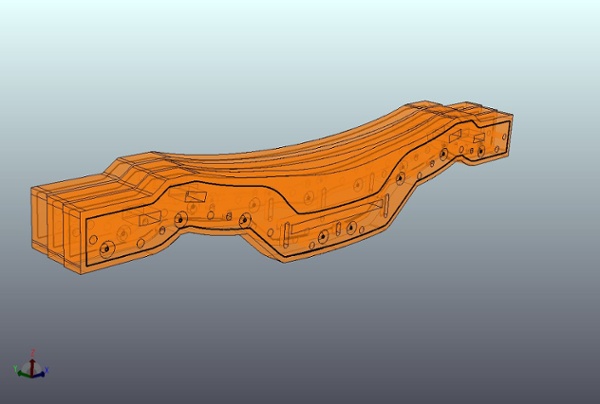 Inner views of layers of the mold with holes and slots in place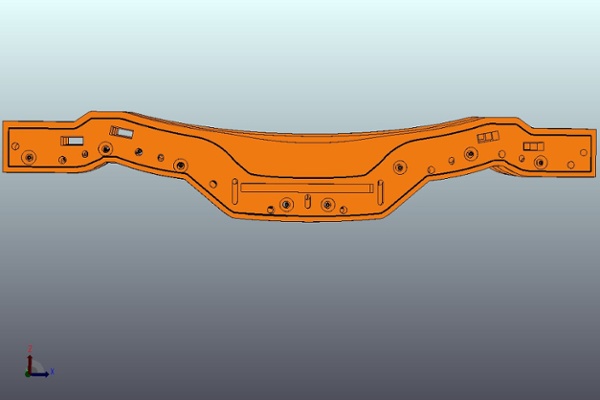 Because you can create a multitude of channels or chambers inside the mold face, you can easily do things that are not normally possible. For example, you can circulate liquid at different temperatures through different parts of the mold, or you can create vacuum chambers under different areas of the mold and regulate the flow and timing of vacuum to those areas to aid in forming difficult parts.
There are few, if any, restrictions as to the size or geometry of molds that can be produced using this approach.
Although the basic idea is quite simple, there are a lot of details that must come together to make it all work. Programing all these details using traditional CAD would be difficult at best. The effort would likely make the whole approach impractical.
With Cut Layer Additive, the basic mold doesn't require programming, at least in the usual sense.
Machine Intelligence in the Cut Layer Additive machine actually knows how to make these kinds of molds, so all you need to do is tell it what you want.
This is done in two steps, show it the shape and tell it how you want it made.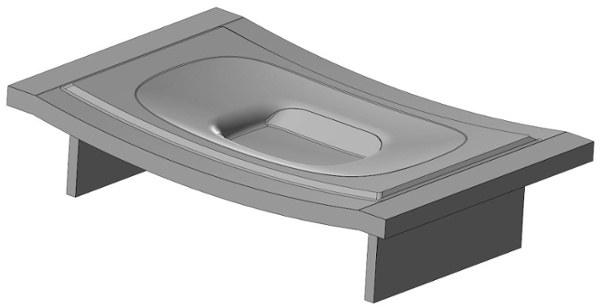 The basic shape of the part is all CLA needs
CLA just needs a CAD file of the basic shape
You show it the shape by sending it a CAD file. Not a detail file, just the basic shape you want. Don't worry about the inside just yet.
In telling it how you want it made, you need to tell it the material you want to use, how thick you want the face, where you want channels, where you want standoffs, and any other details of what you want.
This is actually a lot easier than it sounds. You simply answer questions about how you want it made. The system guides you and makes the entire process rather easy. This part can often be done in less than five minutes.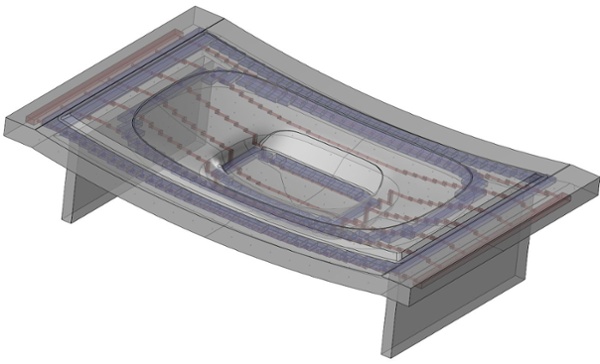 CLA can add in holes and slots to each layer to create channels and chambers
---
To make molds, Thermwood has added the ability to add holes and slots to each layer to create channels and chambers. New features, while you are defining the part, make this rather easy to do. It does take a bit more effort than just making a cut layer part, but overall, it's straightforward and the results are stunning.
Truly sophisticated molds are now possible at low cost, with zone temperature control, zone vacuum and more. Cut Layer Additive does it using a tiny fraction of the time it would otherwise take.
It makes the whole thing practical.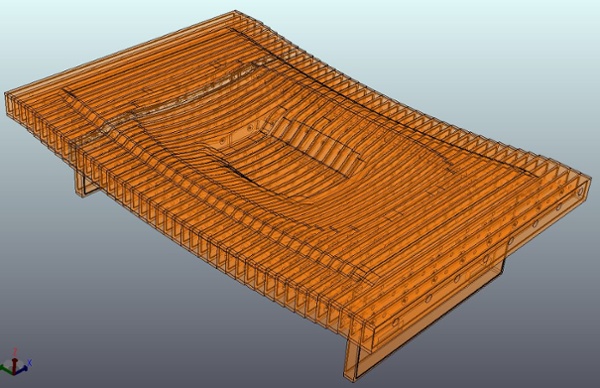 CLA can quickly create the mold with holes and slots that couldn't be made any other way.
Attend CAMX 2023 FREE and see CLA for yourself
CLA will be on display at CAMX 2023 Oct 31st-Nov 2nd in Atlanta, GA! Visit Thermwood Booth #FF18 to see molds and tools produced on CLA, experience live demonstrations of the software and speak to our representatives to help answer your questions on this exciting new addition to the world of additive manufacturing!
Use the code 119734 to register and attend CAMX 2023 Free from Thermwood at the link below:
https://www.xpressreg.net/register/camx1123/start.asp