Thermwood's latest machine, the AutoProcessor 5x10 - Shown at the 2012 IWF show in Atlanta, GA Booth #5753.
The AutoProcessor 5×10 is a complete solution for Nested Based Panel Processing, Cabinet/Closets, Marine/Boat Building, Furniture Manufacturing, Exhibits/ Store Fixtures, Machining Plastic Sheets and High Volume Cabinet Production.
With each cycle, the machine first labels the sheet, positions the sheet on the table, machines the material, off-loads the finished parts and then repeats the process. Dust collection during this process keeps scrap and debris to a minimum. Labels help the operator to quickly sort the parts, and Assembly Marks help final assembly happen quickly and easily.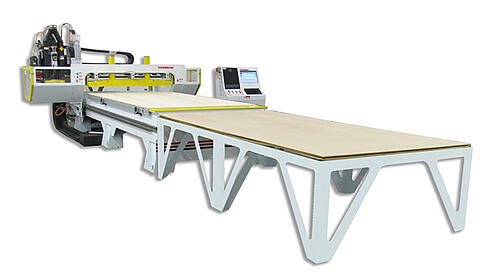 Features:
• Thermwood QCore SuperControl
•5' x 10' Working Table / Moving Gantry
• Rapid Speed 4,200 IPM
• 4000 lb. Lift Table for Loading
• 12 HP HSK Electro-Spindle
• 8 Position Tool Changer
• Automatic Pop-Up Pins
• Automatic Tool Sensor
• Automatic CNC Labeler
• 9 Spindle Drill Bank
• Unload Table
More information can be found here