Programming Required?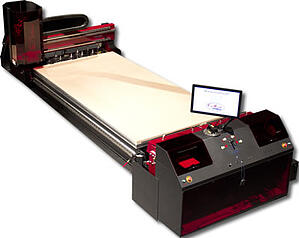 Every CNC router, regardless of price, has one thing in common..it must be programmed. You will need a CNC programmer. A typical CNC programmer will cost you more each month than the payment on a Thermwood Cut Center, which does not need CNC programs or CNC programmers.
So, even if a machine was FREE, it would still cost you more than a Thermwood Cut Center, and in a few years the Cut Center payments go away while your programmer costs most likely will go up.
I'll Program it Myself
Good luck! CNC routers require a constant stream of programs to run. Solving problems, like damaged or scrapped parts or defects in material means even more CNC programs. Programming custom cabinets on a CNC router is a full time job….good thing you have nothing else to do!
And then there's software. Cheap cabinet software is limited and difficult. It takes more time which means more money. Really good software can cost as much, or more than your cheap router.
And there's scrap. You will have one or more partial sheets left from each job. Regardless of what they tell you, it is so difficult, complex and expensive to add this to new jobs that virtually everyone just throws it away. With the Cut Center, you just scan the label on any extra material lying around and it is added to the job, automatically. This can mean a lot of money saved at the end of the year.
Get Into Production Quickly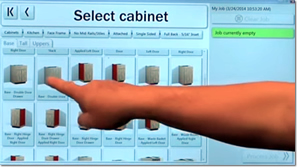 Also, it is likely you will be in full production with a Thermwood Cut Center in about a half a day. A CNC router can take as much as six months to program and get to that point. A half a day or a half a year? There is serious cost associated with that half a year.
Not So Cheap After All
When you consider everything, a cheap router isn't so cheap after all. In fact, to match a Thermwood Cut Center they would have to pay YOU to use their router.
Instead of looking for the cheapest possible CNC router, do this thing right, get a Thermwood Cut Center….your life will be better and you will make more money.
---
See the Cut Center at WMS 2015!
The 2015 WMS Show (November 5th-7th) promises to be an exciting opportunity to visit Toronto and see the very latest technology from Thermwood!
Like the award winning Thermwood Cut Center (make virtually anything a cabinet shop would want to make - with no programming), as well as the AutoProcessor 5'x10' (a high-speed, automatic load/unload, heavy-duty CNC routing system for nested based feed through machining).

Please come and visit us at CNC Automation booth #2013. Click this link (use promo code CNCAUT15) to obtain passes to the show on behalf of CNC Automation (exclusive Canadian Thermwood dealer).