Carson City, NV: Classic Dash has announced a new molded ABS composite dash panel in three finishes for GM G-body cars, rear-wheel drive iterations that were produced from late '78 until early 1988. These cars include the Buick Regal/Grand National/GNX, Chevrolet Monte Carlo, El Camino, Malibu, GMC Caballero, Oldsmobile Cutlass, Pontiac Gran Prix and Grand Le Mans and Bonneville.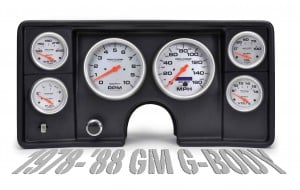 In keeping with all the company's previous offerings, the G-Body panel is clean and stylish. Lightweight and exceedingly rigid ABS plastic sheets are vacuum-formed at 320 degrees Fahrenheit and the material is impregnated with a UV inhibiter that protects it from sun damage. Accuracy is the key. A Thermwood 5-axis CNC high-speed router consistently trims the dash panels to within 0.005-inch.
The Classic Dash panel is available in carbon fiber, brushed aluminum, or black finishes. All panels are offered in two forms: with or without gauge openings, and with or without gauges. Gauge selection includes several variations from Auto Meter and Classic Instruments. Auto Meter kits include wiring harness from gauges to factory loom, LED turn signal indicators, and high-beam and emergency brake light indicators.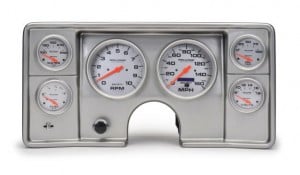 Classic Dash was formed in 2002 and was the first company to create replacement ABS composite dash panels for vehicles of the muscle car era. Their new, state-of-the-art manufacturing facility is located in Carson City, Nevada. Its website has a new make-over with easy navigation and access to ordering. Staff members can easily answer any technical questions you may have and same-day shipping is available on orders received before 3PM, PST. Classic Dash instrument panels complete with gauges are priced from $849.95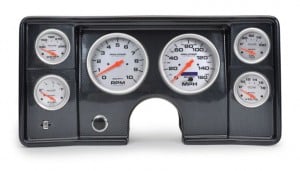 For further information contact:
Classic Dash, 5225 Grumman Drive, Suite 100,
Carson City, NV 89706
Telephone (866) 882-3525