---
Dimensional Innovations now has Kansas City's biggest 3-D printer
Overland Park-based Dimensional Innovations unveiled its newest piece of equipment, a $2.2 million 3-D printer and five-axis router that can make items 10 feet wide, 20 feet long and 5 feet high.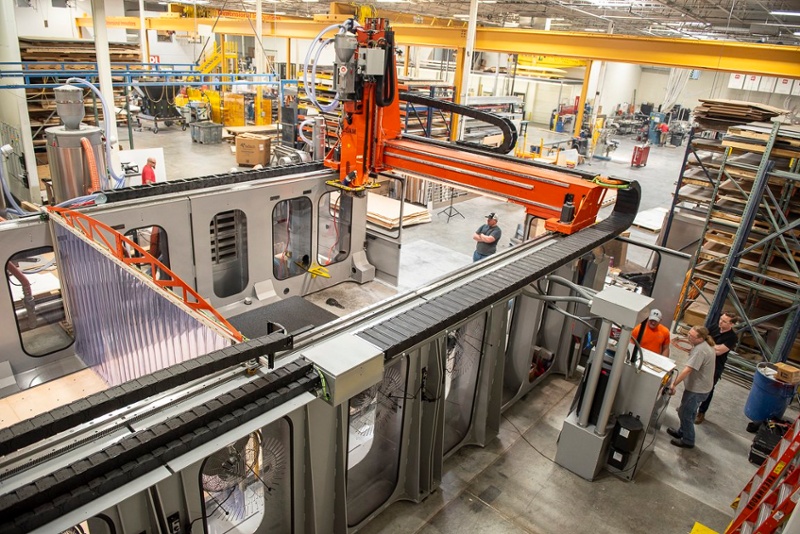 Dimensional Innovations now owns the largest 3-D printer in the Kansas City area.
Submitted by Dimensional Innovations
---
©2019 Kansas City Buiness Journal. All rights reserved. Reprinted with permission
(Note this article was originally published on May 2nd, 2019, here)
---
Produced by Thermwood, the equipment is known as a Large Scale Additive Manufacturing (LSAM) machine. It can produce huge components from reinforced thermoplastic composite materials. It's the only one of its kind in the Kansas City area and one of only a handful currently in use in the U.S.
"Within the design, architecture and construction space, we're not aware of anyone else who has this capability," Dimensional Innovations CEO Tucker Trotter said. "There is not really someone else we can look to for examples on how to use this equipment, so we're going to have to define that. It puts pressure on our team because there aren't answers yet, but it also opens up incredible opportunities."
Trotter said the purchase of the LSAM was driven by a secret project DI isn't allowed to discuss at this time, for production of a large-scale, iconic element. It had limitations on weight, needed to be prefabricated so it could be assembled in the field, had to be strong enough to meet wind load and had fire-proofing requirements.
"I went into the discussion for this project thinking it was really not a good fit for us," Trotter said. "I couldn't see how we could do it. But the culture at DI is so cool that we had people here who didn't take no for an answer and spoke up saying they thought we could do it and here's how. It started as a crazy idea, but now that we've got this equipment, I think it's really going to advance who we are and how we're seen by a lot of people."
The company's growth made the addition possible. DI's business had outgrown its headquarters at 3421 Merriam Drive in Overland Park, so it moved the sign fabrication business to a new shop at 15500 W. 108th St. in Lenexa. That created room at the headquarters, allowing the company to buy the LSAM. It also is allowing DI to start building out about 50 new offices inside the headquarters, creating room to hire more designers and sales people.
DI has also been expanding into other cities, opening offices in Atlanta, Minneapolis and, most recently, Los Angeles.
"The smaller satellite offices have been low risk, and they've been very successful," Trotter said. "We like that and will continue to do that. It puts our people and brainpower closer to projects."
It also helps the company attract more talent, which in turn leads to more work.
---
About Dimensional Innovations
Dimensional Innovations - Dimensional Innovations is an award-winning, multi-disciplinary firm that creates dynamic, engaging and interactive solutions that bring brands to life. DI helps businesses develop exceptional brand experiences to captivate and engage their target market. Works with clients that include 50,000 seat stadiums and history museums to create experiences customers will love. Focuses on the sports, corporate, student life and entertainment industries.
More Information on LSAM
LSAM is based on exciting new technology developed from an entirely new direction.
LSAM is intended for industrial production. It is not a lab, evaluation or demonstration machine, but is instead a full-fledged industrial additive manufacturing system intended for the production of large scale components.
Much of the technology used in Thermwood's LSAM machines and print process is completely new. Thermwood has already received numerous patents on these revolutionary developments and many more are in the works. In addition to the projects already announced, many other exciting results that LSAM has already achieved are covered by non-disclosure agreements and must be kept secret. LSAM is truly state-of-the-art in the exciting new world of large scale additive manufacturing.

---