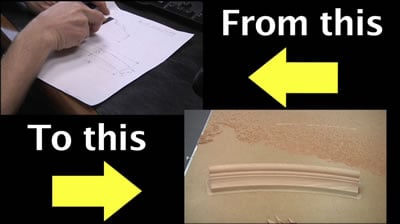 Thermwood's Profile Modeler allows you to quickly create a molding or custom shape from a sketch or drawing on a Thermwood CNC Router with no special shaped tooling required.
This video demonstrates using Profile Modeler to create a custom curved cherry molding from Sketch - to Profile Modeler - to Machine - to Completed Shape.


---
Steps used in the video:
In eCabinet Systems:
Verify the measurements
Create the shape using Shape Manager in eCabinet Systems
Create Tool
Apply Tool to create Shape
On Thermwood QCore SuperControl:
File loaded into Profile Modeler on QCore SuperControl
Verify Tool Path
Run Program
Machining Part (Roughing/Finishing/Detail Passes)
No special shaped tooling required - Tools Used: 1/2 Straight, 1/2 Ballnose, 1/8 Ballnose, 1/8 Flat
Completed Shape
For more information on Profile Modeler or any of our other products, please click here or contact us at 1-800-533-6901.