Thermwood LSAM 2020 - Year in Review
The last 12 months have seen an incredible level of disruption in all industries, fueled in large part by the coronavirus pandemic. COVID-19 has impacted nearly every aspect of the global economy, from manufacturing to supply chains to travel.
The additive industry wasn't spared, with event cancellations and disruptions to regular business becoming the norm. Thermwood pivoted in 2020 to continue our focus on innovation and development with our LSAM (Large Scale Additive Systems) line, and have made many new discoveries and advancements in our additive manufacturing program.
Below, we highlight some of the notable LSAM moments from 2020 that leaves us hopeful for the future of large scale additive manufacturing in 2021 and beyond:
---
March 5th - Thermwood Announces Another New LSAM Model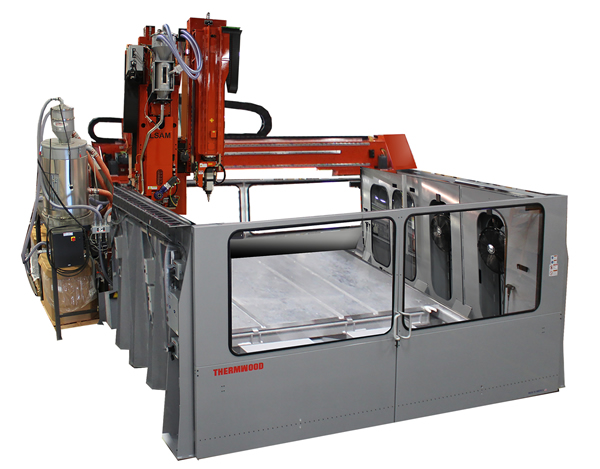 To address the need for a lower cost enclosed additive machine, Thermwood developed the LSAM 1010. This system uses the walls from the larger LSAM systems with the gantry, control and sub-systems from the LSAM MT.
The LSAM 1010 features a fixed 10 foot by 10 foot table. A single moving gantry carries both the print and trim heads as on the MT and, like the MT, it can both print and trim (but not at the same time). The print and trim heads on all Thermwood LSAMs are the same, so all machines can process virtually any reinforced composite thermoplastic materials available today.
With the introduction of the LSAM 1010, it became clear that Thermwood is committed to responding to customer requests and providing its industry-leading LSAM additive manufacturing technology in a variety of configurations to better fit varying customer requirements.
---
March 17th - Thermwood LSAM 1020 Quickly 3D Prints a Multi-Piece Foundry Pattern
This was a great exercise to demonstrate the capabilities of an LSAM to quickly make a multi-piece foundry pattern out of ABS (20% carbon fiber fill).
The pattern was printed on an LSAM 1020 in 6 hours and 40 minutes, and machined on a Thermwood 5 Axis Model 90 (because of other projects that were pending on the LSAM).
---
June 25th - Thermwood Builds Massive Metalworking Machine to Increase LSAM Production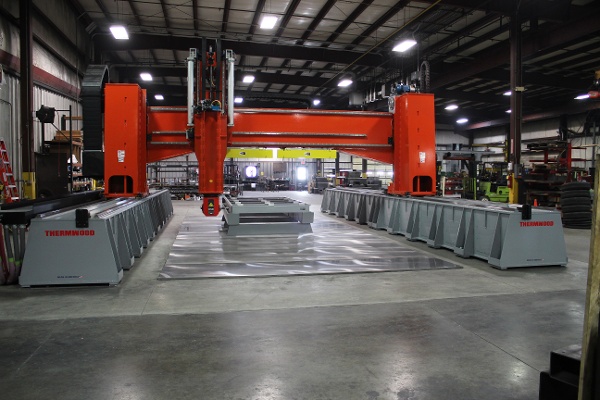 Thermwood designed, fabricated and put into operation the largest machine it has ever built. The metalworking machine, dubbed internally as the M400, weighs 51 Tons (103,000 pounds) and is mounted on a special isolated, double steel reinforced concrete pad. It has a 15 foot wide, 35 foot long floor level steel table that by itself weighs 21,000 pounds.
---
August 27th - Thermwood LSAM MT VLP Prints a High Temperature Part
In August, Thermwood demonstrated it's VLP (Vertical Layer Printing) capabilities on an LSAM MT 1010. The high-temperature part was printed out of Techmer PM blended 25% carbon fiber filled PSU/PESU.
Total print time for the project was 16 hours and 40 minutes, and the final weight of the part was 1,190 lbs. The final part dimensions were 108.6" (x) x 33" (Y) x 45" (Z).
---
September 17th - Thermwood and General Atomics Partner on Additive Tool with $50,000 Cost Savings
In September, Thermwood partnered with General Atomics to produce a CNC trim tool. The tool was printed from ABS (20% Carbon Fiber Filled) in 16 hours. Total machining time was 32 hours. The final part weighed 1,190 lbs, and represented a cost savings of around $50,000 when compared to traditional methods.
Total lead time for the part decreased from 6-8 weeks to less than 2 weeks by utilizing the powerful LSAM system.
---
September 24th - Take a Tour of the Thermwood LSAM
Also in September, LSAM Product Manager, Scott Vaal, took us on an informative tour of the Thermwood LSAM.
In this tour, Scott explains all the different aspects of the Thermwood LSAM and provides insight into this unique solution for large scale additive manufacturing.
---
October 22nd - A New Approach to 3D Printing a Yacht Hull Mold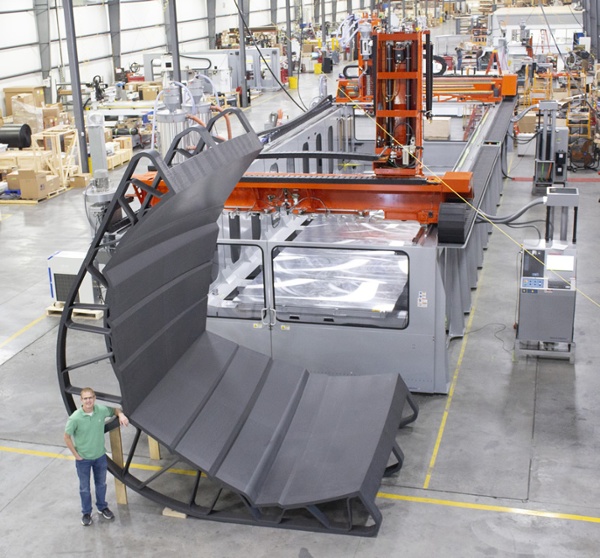 In October, Thermwood printed a several sections from a 51 foot long yacht hull mold to demonstrate how only a single mold may be needed for the manufacture of larger vessels, such as yachts.
The printed sections of this test mold were made of carbon fiber reinforced ABS from Techmer PM. ABS was chosen because of its physical properties and relatively low cost compared to other reinforced thermoplastics
---