At the recent IWF show in Atlanta, Thermwood partnered with Hafele, Columbia Forest Products and Conestoga to build complete cabinets for Habitat for Humanity.
Thermwood demonstrated a working production cell consisting of the CabinetShop 43 CNC Router (for nested based applications) and a Fravol S2 ECO edgebander. Attendees were able to get hands on experience using the easiest and simplest system in the industry. Within a few seconds they selected a product to cut, modified the size and watched the machine cut their parts. Attendees then took the parts to the edgebander to complete the process.
Complete cabinets were produced at the show from the ¾" thick, pre-finished maple plywood provided by Columbia Forest Products. This Pure Bond plywood is sealed with AquaSEAL (a formaldehyde-free recyclable overlay conforming to the latest in green technology).


Hafele provided the hinges, slides and shelf hardware for the cabinets, and Conestoga Doors providedfinished five-piece doors and solid wood drawer fronts.


Cabinet joinery was Thermwood's new revolutionary Barb Dado joint (patent pending), which allowed the cabinets to be put together without the use of clamps or other holding methods. The Barb Dado joint is a modified versionof the Blind Dado joint in which we machine a series of barbs in the mortise slot. When you press the parts together, the barbs bend down, bending the fibers in the wood downward firmly holding the pieces together. It is a lot harder to pull it apart than to put it together. This means you can assemble cabinets without screws, clamps or any other fasteners.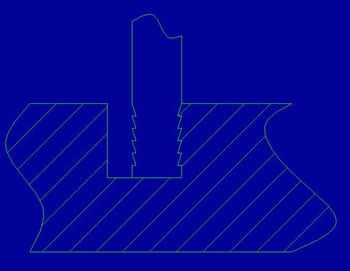 The result were beautiful, complete cabinets produced quickly, utilizing an innovative new, highly efficient manufacturing approach which results in a superior structure coupled with enhanced use of materials, all at a dramatically lower price. All cabinets produced at the IWF were donated to Habitat for Humanity.