Thermwood machine owner, Bednark Studio (located in Brooklyn, New York), has engineered a disposable PETG Face Shield for health care professionals. They are sharing CNC router files and production information to any other manufacturers across the country who would like to supply these to hospitals, etc. that are in need.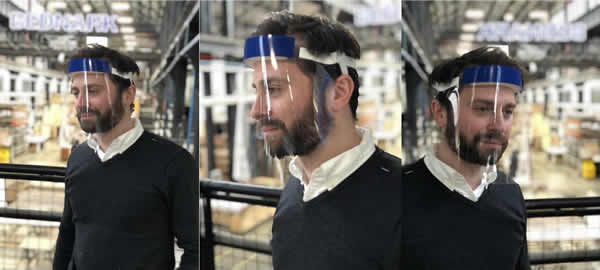 Thermwood is here to assist anyone who would like to produce these face shields on their equipment (including non-Thermwood CNC routers). If you need help, or would like to do something similar, please contact us at 1-800-533-6901 or email at program@thermwood.com.
Download Face Shield Production Files
Please click here to download a .zip file with instructions, machine code files, tooling and material information.
Included in this download:
Bednark Studio Face Shield Production Document
MasksV3 - 27 per sheet nest.dxf
MasksV3 - 27 per sheet nest TABBED.MCX-7
MasksV3 - 27 per sheet nest TABBED.NC (tailored for Cut Centers)
MasksV3 - 32 per sheet nest.dxf
Material Required (supplies may be scarce):
PETG / Polycarbonate with 0.02" or 0.03" thickness in 4'x8' sheets
1" Plank Foam or Stacked Adhesive Weather-stripping
¾" Flat Elastic Chord
Recommended Tooling:
Amana Tool 46225-K

1/8" down spiral plastic tooling
Notes (from Bednark Studio):
This thinner material is very difficult to hold down with vacuum. We used tabbing to prevent the parts from moving. Once most of the machining was done, the machine removed the tabs. Please refer to 'MasksV3 - 27 per sheet nest TABBED.MCX-7' to see how we accomplished this.
The matching NC file is the program Bednark Studio is running on their Cut Center.
More Information
Bednark Face Shield Story from the New York Times