Thermwood Corporation, a leading US manufacturer of CNC routers, announces the MTR 30DT dual table CNC router for machine paced panel processing.
The MTR30 DT is designed for machining jobs that require multiple tools and dual tables for nonstop machine production. The machine is configured with two stationary 61 inch by 121 inch high flow vacuum tables with dual programmable part locators. It is equipped with a 12 HP spindle with an automatic tool changing system that includes both fixed and at the head tooling; for a total of 20 tool positions for routing. It also includes a drill bank with both horizontal and vertical drills, available up to 25 spindles.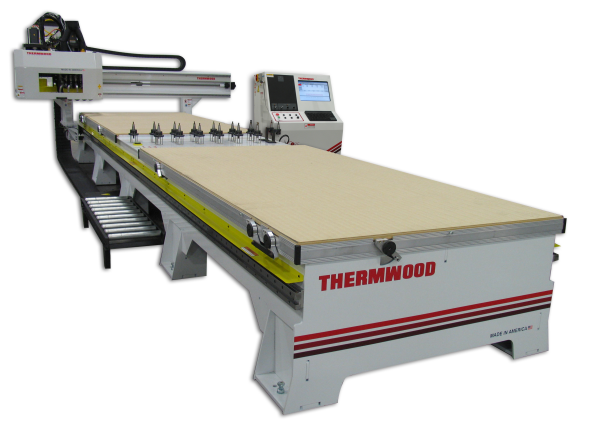 Included within the QCore control is Thermwood's featured Control Nesting software along with a dxf convertor for accepting dxf files for automatic nesting. The control also includes a huge 1 terabyte hard disk for program storage and is enclosed in a dust protected air conditioned cabinet.
Visit www.thermwood.com or call 800-533-6901 or email info@thermwood.com for more information on this product.
Thermwood is a US company with dealers and distributors worldwide. In addition to machine manufacturing and software development, Thermwood has a technical service organization that provides support, machine installation, training, retrofits, custom programming and production assistance.