This article is also available to view
here
.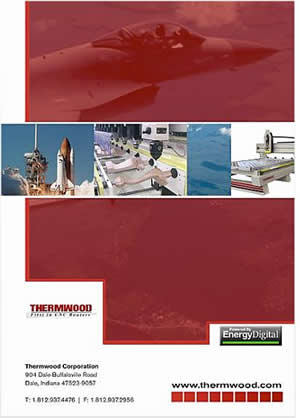 Thermwood Corporation, always on the cutting edge of technology, is now taking its CNC expertise to new markets
Written by Militza Richard & Produced by Shaheen Mohammadipour
The Thermwood Corporation has never been intimidated by technology. Founded in 1969 as a plastic molder for wood-grained parts for the furniture industry, the company developed their own CNC tool in the mid 1970s.
"We ended up building the first CNC control system ever offered commercially," says company founder and CEO Ken Susnjara. The company developed its own operating systems and evolved their CNC routers into a very powerful and capable system.
Used to cut, trim and shape a wide variety of materials including wood, plastic, composites, foam, honeycomb core and non-ferrous metals into either flat or three-dimensional shaped products, CNC routers have changed the face of the machine industry. Thermwood is the oldest CNC router company in the world and the only CNC manufacturer in the country with a GSA certification.
With customers ranging from NASA to Broadway, Thermwood offers a wide variety of systems, in both three and five axis configurations in a wide range of sizes. The company has also become a major international player with operations across the globe.
NEW MARKETS
For many years, Thermwood Corporation has been extremely successful focusing on three key markets: woodworking, plastics and aerospace. However, the company has recently begun expanding into new markets, such as the growing wind sector.
"We've made a huge number of changes in the downturn," says Susnjara. "We've revamped marketing, targeted the wind energy market, and created some new machines. We didn't pull into our shells. You have to go out there and get the business."
With Ken's son Jason Susnjara heading up the marketing department, Thermwood Corporation has embraced online marketing and begun attending new tradeshows, opening doors into new business sectors.
"We had a traditional marketing plan that had worked well for us, but over the past few years we have begun embracing electronics and becoming internet savvy. It's worked rather nicely. By spreading out our marketing we have been able to pick up business in new sectors," says Ken Susnjara.
Entering these new markets has been essential as the economy continues to struggle. "The biggest trends are our competitors going out of business," says Susnjara. "We are in a dozen markets in 35 countries, and we would have never believed they would all dip at the same time."
But the company has taken the down time to revamp and is now excited about the future. "As the economy recovers we will be much stronger," states Susnjara. He believes the economy is turning around and is excited that more and more companies are beginning to adopt CNC technology.
IMPROVED MACHINES
As Thermwood enters new market places, the company has also developed larger, more accurate machines. However, one problem with large machines is the head alignment. Ensuring accuracy comes with a high cost.
To solve this problem, Thermwood has employed 3-D laser systems to measure the exact position of the head everywhere in the working envelope. They then developed technology that allows their CNC control to take this data and compensate for any machine error.
This system cuts down on the cost, making it practical to build larger machines. "We have sold 60ft machines and with the new system we can run the Z axis into the 10-12ft range," explains Susnjara.
As Thermwood continues to improve its systems, its technology continues to become more accurate and easier to use. For example, mounting a fixture used to be a task that could take hours of painstaking work, but Thermwood's new technology can transform the program to match the fixture instead of the other way around, cutting out hours of work.
"Things that used to take a lot of time and skill are now being handled in the control," says Susnjara. "Once we discover the needs of a client, we can generally come up with a way to meet those needs better than our competitors. We can offer the machines for 1/3 less money with specs that are better."
Thermwood hopes to apply this technological savvy to the growing wind sector. Susnjara says the company has programs in place with leaders in the industry and is excited about the "unique technologies they will be able to bring to the industry."
STRONG RELATIONSHIPS
Thermwood is able to offer flexible technological solutions to its clients thanks to the hard work and skill of its employees. "We get pretty good folks. This area has a strong work ethic and skilled people," says Susnjara.
In fact, he says many of the people who were with the company in the beginning are still there today. Their very first employee just retired last year, and many employees are second generation. And while there have been layoffs and pay cuts due to the economy, Susnjara says that in a normal year a turnover rate of 1 or 1.5 percent is bad.
Thermwood also cultivates long-term relationships with its vendors and distributors. Having been in the same business for so long, they have maintained great relationships with all of their vendors. "We have a philosophy that everyone needs to make money. We don't squeeze our vendors. It's better to create relationships where you support each other," says Susnjara.
Similarly, the company has worked with many of its distributors for 20 or 30 years. Many are now second generation.
FACTS AT A GLANCE:
Company Name: Thermwood Corporation
CEO: Ken Susnjara
Operations: Thermwood is the oldest CNC router company in the world and the only CNC manufacturer in the country with a GSA certification
Established: 1969