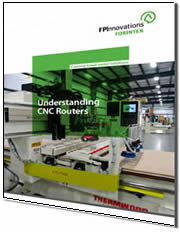 A CNC Router is designed to greatly improve cut quality, cycle times and accuracy by automating your process and creating a safer environment. Determining if a CNC Router will fit your needs should be an easy decision.
What can you expect from Understanding the Basics of CNC Routers?
What is a CNC Router and how do they work
Acheive faster cycle times and faster throughput than by hand
Accurate parts straight off the machine without extra handling
Maintenance on a CNC router is Less than maintenance on a vehicle
A CNC router is the Safe choice
A CNC router is a valuable tool that has many benefits such as improving cut quality, better accuracy, faster cycle times and a safer environment.
This book was written by Alain Albert - FPInnovations - Forintek Division