The Thermwood Multi-Purpose Three Axis Series are highly flexible, making them ideal for a variety of manufacturing applications.
Whether you are interested in a moving table machine for low profile machining or a fixed table for large sheet material, plastic or composite sheets or upholstery frames, we have a solution for you:
---
Multi-Purpose 45
The Multi-Purpose 45 is a heavy-duty three axis CNC router available in either single or dual spindles with optional rotary axis
| | |
| --- | --- |
| Model 45 Dual Spindle 5'x5' Single Table | Model 45 5'x10' Single Table |
---
Multi-Purpose 43
The Multi-Purpose 43 is an entry-level three axis CNC router made from fully stress-relieved structured steel for nested-based custom cabinets, custom furniture and support products.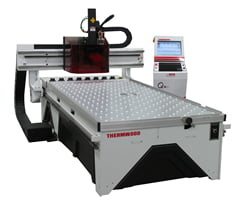 Model 43 4'x8' Single Table - Moving Gantry
---
Multi-Purpose 53
The Multi-Purpose 53 is a moving gantry, fixed table, (optional roller hold down) three-axis CNC router, and is designed for the routing and stack machining of large sheet material such as fiberboard (MDF), particleboard and plywood. When configured as an optional FrameBuilder with Roller Hold-Down, it has all the elements needed to machine nested upholstered frame parts from sheet stock.
| | |
| --- | --- |
| Model 53 5'x20' Fixed Table | FrameBuilder 53 5'x10' Fixed Table |
---
Multi-Purpose 63
The Multi-Purpose 63 is a large bed three-axis CNC router with moving bridge and stationary table. Primarily designed for two dimensional machining of large composite parts, and is also highly recommended for the machining of three dimensional patterns.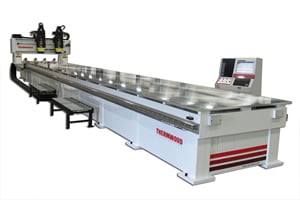 Model 63 5'x40' Fixed Table
---
Multi-Purpose 42
The Multi-Purpose 42 is a moving single or dual table(s), fixed gantry, CNC router primarily designed to machine materials such as hardwoods, softwoods, fiberboard (MDF), particleboard, plastics and aluminum.
| | |
| --- | --- |
| Model 42 5'x10' Dual Spindle | Model 42 10'x5' Single Moving Table |
---
Multi-Purpose MTR
The Multi-Purpose MTR Series are complete three axis CNC routing systems with single or dual in-line tables for nested base, composite or plastics.
| | |
| --- | --- |
| MTR 30 Dual Tables 5'x10' Moving Gantry | MTR 21 7'x12' Single Moving Gantry |
---