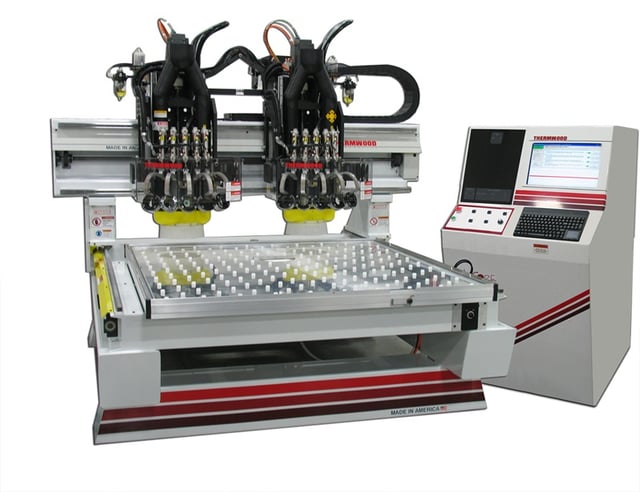 The Thermwood Multi-Purpose 45 is a heavy-duty, high-performance three axis CNC router designed for real-world production.
Available in either single or dual spindles (with optional rotary axis), the Model 45 is used in the machining of composites, tooling boards, plastic sheets, aluminum, cabinets, solid wood, millwork, phenolic, display fixtures, nested based panels and much more.
This versatile machine is available in a variety of table sizes and has enough standard features and options to get the job done.
The Details
This part was programmed in MasterCam 2019 and had over 50,000 lines of code. The roughing pass used a dynamic Optirough tool and was ran at 17,000 RPM and 600 Inches Per Minute.
Click below to watch a Thermwood 3 Axis High-Performance Heavy-Duty Model 45 5'x 10' machine a pyramid out of aluminum.
Video
12 HP HSD Spindle (3,000-24,000 RPM). Optional 18 HP Spindle
4 Position Bar Style Automatic Tool Changer. Optional 7 Position
Optional Rotary Axis (accepts stock from 8" (200mm) in diameter and up to 56" (1.4m) in length)
Fixed Steel High Flow Table with Moving Gantry (sizes from 5'x5' to 7'x12')
Multi-Function Table (pod system capable) (Optional)
At the Head Automatic Tool Changer (Optional)
Extended Z Clearance and Stroke (Optional)
Optional Pod System Available
Optional Pause Mats Available
Automatic Lubrication (optional)
Automatic Tool Length Measurement (Optional)
Three-Dimensional Laser Compensated Axis Alignment
Control Nesting
Siemens Intelligent Servo Drives Throughout
QCore SuperControl
Machine Training and Installation
Free Lifetime Phone/Forum Support
Other Model 45 Videos