We are streaming live from the International Sign Expo in Las Vegas, starting today 4/28/11 at 11:00am CST.
See our SignRouter 43 with i-cut Vision technology in action direct from our Booth #5333. It is like attending the show from the comfort of your office!
You can also interact directly with our folks at the show via real-time chat. Ask questions and also see what everyone is saying on Facebook and Twitter about our exciting approach to the sign industry (all in one place).
Visit the Thermwood Booth from your computer at: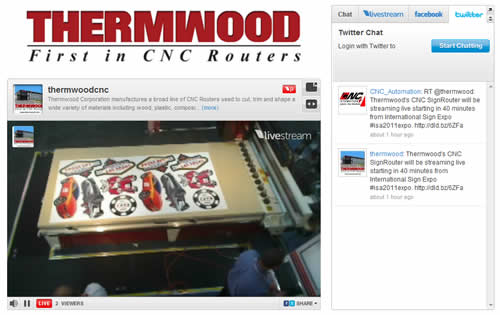 ---
Featuring the SignRouter 43: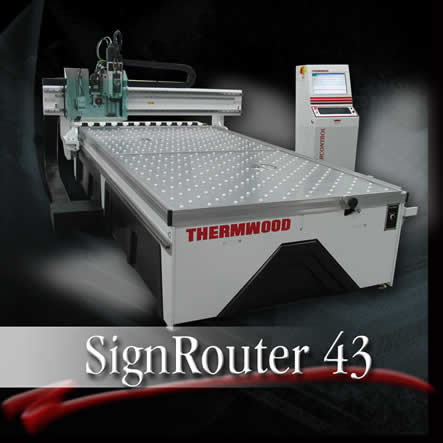 The SignRouter 43 is capable of machining flat and three-dimensional signs using wood, aluminum, composites, chip core, rigid foam, plastics, acrylic, non-ferrous metals and other various types of materials as well as operating as a traditional sign-making machine using optional i-cut Vision camera and software (these highly capable systems accurately trim printed signs, automatically compensating for distortion or rotation in the printed image). Click for more info
Thermwood's SignRouter43 with "QuickCut" technology also offers a revolutionary new approach for nested based applications. Just select and resize cabinets and closet components, then make them…right at the machine. You don't need design software. You don't need extensive training or a painful learning curve. Pretty much anyone in your shop can make cabinets and closets with a few minutes instruction. It's not much more difficult than running a copy machine.
The SignRouter 43 is a robust, highly flexible production system capable of operating 24 hours a day, seven days a week.