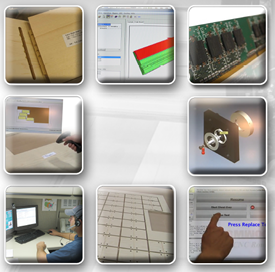 Most people looking at a router for the first time do not realize that the vast majority of their cost will not be in running the router, but actually in EVERYTHING ELSE required to run the router (preparation, programming, hold down, operating procedures and error handling are the main cost areas).
Ordinary routers do not focus on these areas. They simply rely on the user to take care of them and usually it is not that easy. Thermwood smart routers address these areas in a big way. They focus on the areas where you spend the most money because that's where you can make the most money.
Just like a smart phone does more than simply make phone calls, a Thermwood smart router does much more than just route parts. The "more" in a smart router saves material and labor and makes it very easy to use. A smart router may cost a bit more, but is substantially more profitable, making it a much better overall investment.
---
Thermwood Smart Router Advantages:
Smart Routers Save Material
Easily use material left from the last job
Recover from broken tools without scrapping material
Smart nesting keeps smaller parts from moving and being scrapped
Nest around defects to use damaged or flawed material
Save the sheet if parts start moving
Warns you if spoilboard needs resurfacing
Fly cut spoilboard in the middle of a job
Machine back operations on the full sheet
Alerts you when running critical parts
Smart Routers Save Labor
Smart routers are easier to program
Recut parts without programming
Easily recover from problems without programming
Run at the machine without programming each job
During file selection, images help avoid errors
Machine operator can safely do other jobs
Avoid processing parts one at a time
Smart Routers are Easy to Use
Run from virtually any software or any program

The same file works on any smart router regardless of size or configuration

Smart routers easily process material whose thickness varies from sheet to sheet

Smart routers guide you step by step

Uses smart labels to make parts easy to sort

Assembly marks make parts easy to assemble

Smart tooling avoids tooling errors

Smart routers manage tooling for you

Smart routers machine a profile edge without a profile tool
Smart Routers are Easy to Maintain and Service
Automatically manages routine maintenance

Helps you recover from errors quickly and easily

Maintenance and operating manuals are right on the screen

Watch how-to videos for service

3D CAD drawings identify every part quickly and easily

Smart routers can be serviced over the internet

Smart routers are updated online
Other Differences
Smart routers are not limited by memory

Smart routers can be monitored and managed with your smartphone or tablet

Smart routers use a large touch screen like other modern devices
---