Thermwood participated at the 2014 IMTS (International Manufacturing Technology Show) in Chicago, as a part of the world's first 3D printed car team.
This ambitious undertaking was conceived by Local Motors localmotors.com and carried out by several partners on the project, including Thermwood. The overall concept was to 3D print, trim, assemble and drive the car all in the one-week time frame of the IMTS show in front of the over 100,000 attendees during the week.
After the car body was 3D printed (the additive portion of the process using a Cincinnati Big Area Additive Manufacturing machine), a Thermwood 5 Axis Model 70 10x15 CNC router was used as the subtractive portion to trim and shape the body into the final streamlined version. This process had to be precise to achieve the correct fit and finish of the body, fenders and all other parts.
Overall, the entire 3D printing process took 44 hours, machining on the Thermwood took one full day and final assembly was two days!
Additive portion of the project
Time-lapse of the Strati being printed

---
Subtractive portion on the Thermwood Model 70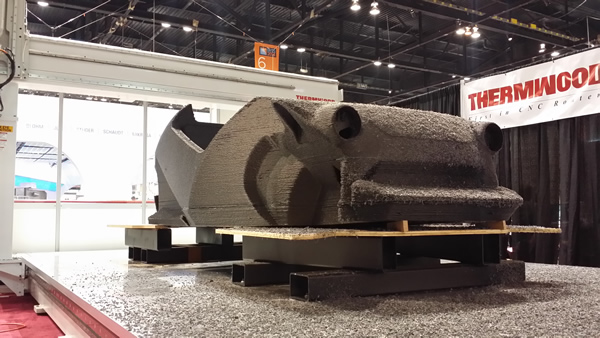 Thermwood Model 70 5 Axis CNC router performing the "subtractive" portion of the process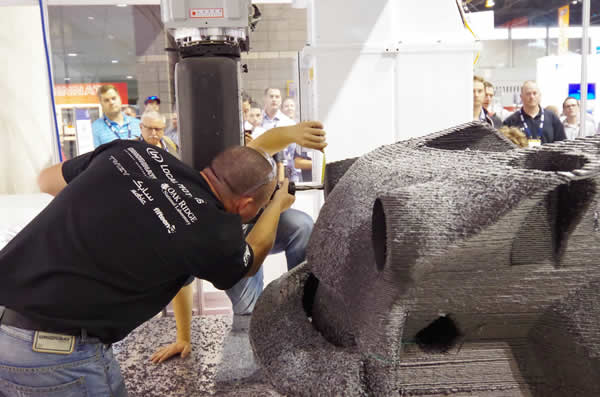 Thermwood's Brent East put in long hours programming and running the subtractive portion of the car
---
Assembling the Strati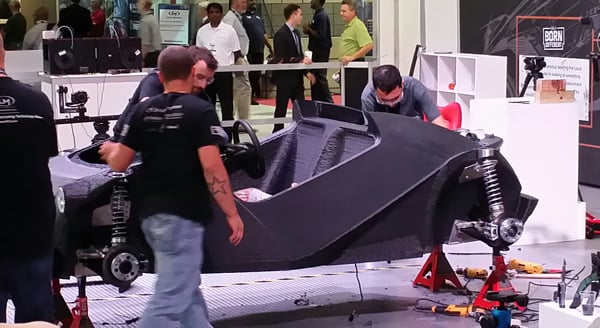 Strati 3D Printed Car being assembled at the IMTS show
---
The Finished Product
After assembly, the finished Strati was ready to roll, and was driven on the last morning of the IMTS show on Saturday September 13th. This World's First 3D Printed Car begins a lengthy international tour this week.
Local Motors CEO John B. Rogers Jr. (Jay) says in a press release "The Strati was designed by our community, made in our Microfactory and will be driven by you, This brand-new process disrupts the manufacturing status quo, changes the consumer experience and proves that a car can be born in an entirely different way."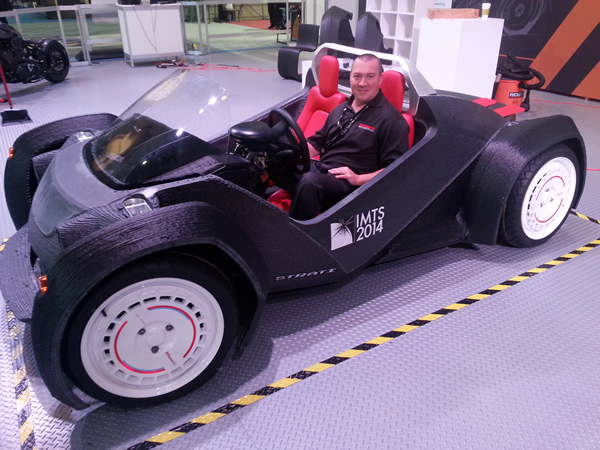 Thermwood's own Brent East checking out the finished 3D Printed Car before its maiden voyage
---
Maiden Voyage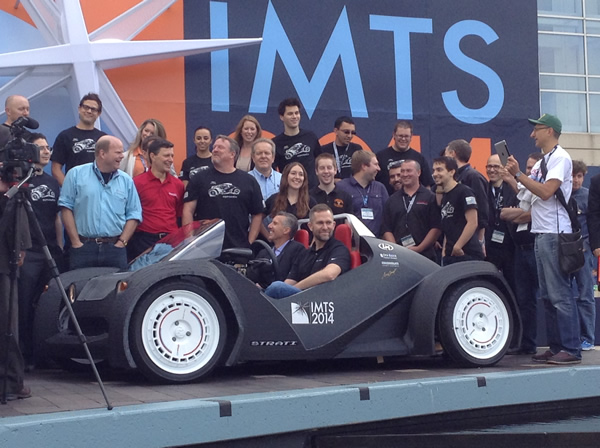 The project team presents the finished Strati to the world right before its first drive!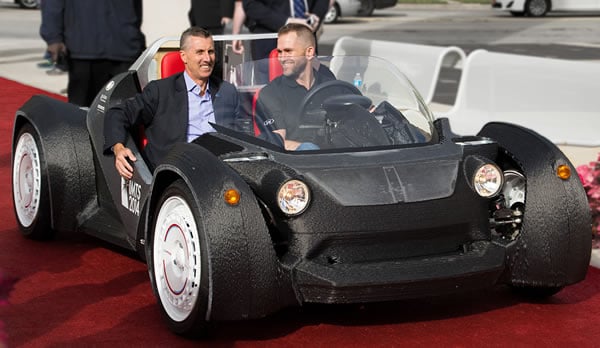 World's first 3D printed car drives around downtown Chicago
---
NBC Chicago Story on the Process - Featuring the Thermwood Model 70 - click to view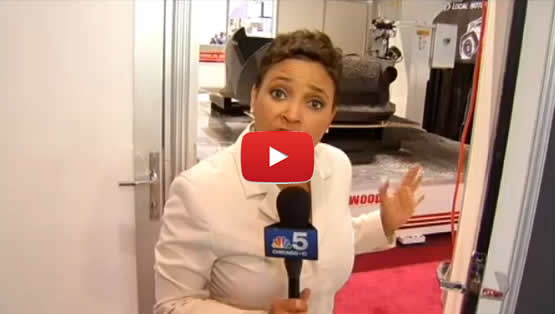 ---
About the Model 70
The Multi-Purpose 70 is designed for aerospace and composite applications utilizing large/heavy fixtures (various sizes available).
| | |
| --- | --- |
| Model 70 10x20 Fixed Table | Model 70 10x10 Fixed Table |
---
More Info