Section 179 Tax Deduction/Bonus Depreciation

Thinking of purchasing a new cnc router in 2011, and still on the fence because of the uncertain economy? Some great news is the current dual benefit of the Section 179 deduction/100% bonus depreciation which helps make 2011 the ideal year to purchase your new cnc router!
These newest changes are as follows:


The Section 179 Deduction limit has been increased to $500,000. The total amount of equipment that can be purchased increased to $2 million. This includes most new and used capital equipment, and also includes software.

The "Bonus Depreciation" has been increased to 100% on qualified assets. However, this can be taken on new equipment only.
2011 is the Year to Do It!
Due to the extension of Section 179 under the 'HIRE Act of 2010' - the enhanced limits under the 'Jobs Act of 2010' - and the recently enacted 100% Bonus Depreciation under the 'Tax Relief Act of 2010':
You can basically write-off 100% of all the equipment and software your business needs to buy or finance this year!

Depreciation Bonus At A Glance:
2011 Deduction Limit - $500,000 (up from $250k previously). Good on new and used equipment, including new software.
2011 Limit on equipment purchases - $2 Million Dollars (up from $800k previously).

"Bonus" Depreciation - 100% (taken after the $500k deduction limit is reached). Note, bonus depreciation is only for new equipment. This can also be taken by businesses that exceed $2 million in capital equipment purchases.

The above is an overall, "simplified" view of the Section 179 Deduction for 2011. For more details on limits and qualifying equipment, as well as Section 179 Qualified Financing, please visit section179.org

An example of Section 179 at work: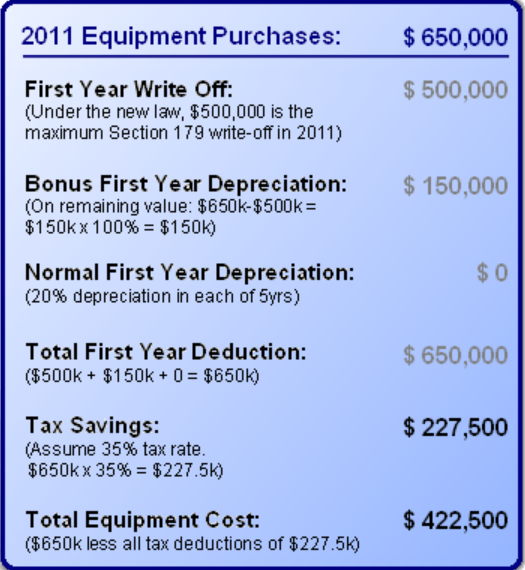 ---

---

Please use the following links to view our line of 3 axis and 5 axis Thermwood CNC Routers.

Visit Why Purchase a Thermwood? to see why our machines are the most reliable, technically advanced and safest choice for over 40 years.