The 2011 AWFS Show promises to be an exciting opportunity to visit Las Vegas and see the very latest in CNC Router technology from Thermwood!
At AWFS we will be demonstrating the machining of custom nested based cabinets along with a variety of other applications including MDF doors, sheet plastics, and wood components.
Featuring the CabinetShop 45 with load/unload system: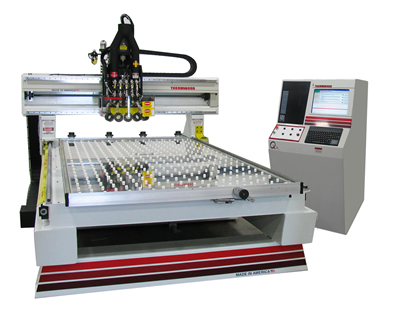 Our demonstrations will include machining products on our CabinetShop 45 CNC, complete with our new optional load/unload system that reduces labor and eliminates the need to load and unload material from the router. Also at AWFS we will be demonstrating the S400 and BEE Fravol edgebanders. Fravol, known for high quality edgebanders, is exclusively represented and serviced in the US by Thermwood.
The CabinetShop 45 will feature our new QCore SuperControl system. The QCore operates with Windows 7 Pro, has a massive 1 Tb Hard Drive for program storage, utilizes a Quad Core Processor and provides the highest level control platform for CNC router technology today.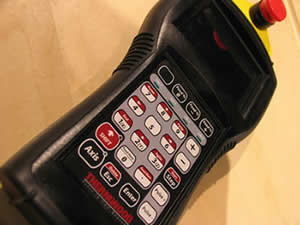 QCore also features an all-new optional Hand Held Programmer that puts the expanded power of the QCore control into a compact, rugged hand remote. This new hand held offers improved ergonomics, a color LCD touch screen display and a durable 24-key steel dome membrane keypad. It allows the operator to perform a wide variety of tasks that were previously only available through the machine control.
Live streaming webcam from AWFS!
We will be showcasing Thermwood's speed and quality by running LIVE machine demonstrations using different materials such as plywood, melamine, MDF, Acrylic and King Plastics' Starboard throughout the day – and available via webcam.
Hands-on Access!
Attendees will also have a chance to customize a product and run the machine yourself using our QuickCut software right at the control. Just select an item, change the size and watch the machine do the rest.
If you're interested in not just increasing throughput but also reducing assembly time, stop by Thermwood's booth to see the latest in construction joints and assembly marks.
Featuring the New Lock Dado Joint:

We announced the new Barb Dado Joint at the IWF show in 2010, this year for AWFS we will be demonstrating our new Lock Dado Joint which combines blind dado and KD Fasteners (available from Hafele) making assembly unbelievably fast and easy!
Plan to stop by Thermwood Booth #4210 and check us out!
The AWFS show is located at the Las Vegas Convention Center and runs from July 20th-23th.