Please Click Here to Register for IWF with 60% off Advanced Registration courtesy of Thermwood, and plan to stop by our booth #B6213 to see our superior technology in action!
For IWF 2022, Thermwood Corporation, an innovator in the design and manufacture of American Made 3 and 5 Axis CNC Routers, is proud to demonstrate three systems. We'll have our all new AutoProcessor 43 510, our powerful Cut Ready Cut Center and our heavy-duty Model 45 510 machining on site.

AutoProcessor 43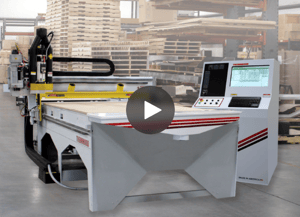 The AutoProcessor 43 5'x10' is an all-new complete, nested-based, CNC routing system for machining cabinet boxes, custom furniture and basically any nested type of sheet product.
It is fully automatic from labeling and positioning of the sheets, to machining and off-loading the machined parts.


With each cycle, the machine simultaneously and automatically:
Labels each part area on the sheet
Moves and automatically positions the sheet on the table
Machines the material while labeling the next sheet
Simultaneously off-loads the finished parts and reloads the next sheet
Continuously repeats the process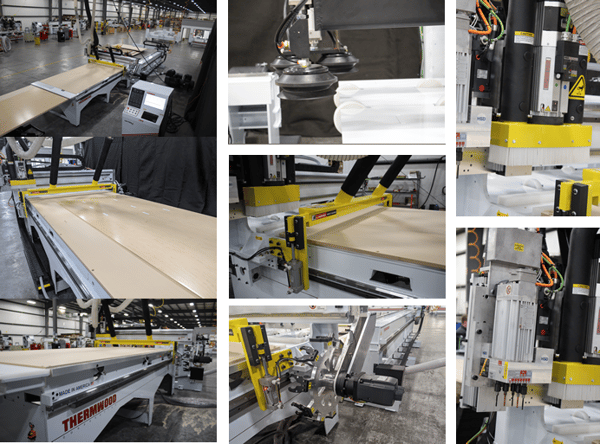 ---
Cut Ready Cut Center
Thermwood will also be demonstrating the award-winning Cut Ready Cut Center. This powerful system helps you quickly and easily create most products a cabinet shop would want to make without a CNC programmer (cabinets, furniture, doors, drawers, moldings, stair stringers and much more). Just tell it what you want to make via a simple touch-screen interface, and it makes it. Or, you can operate it as a traditional CNC router.
Most people can operate it with little or no training or guidance. It is complete, fully contained with all the ancillary equipment smoothly integrated into a package that almost runs itself.
Super Easy CNC - Make Cabinets, Closets, Doors and Much More!
If you build custom cabinets, and want to automate your machining...you really only have two choices. You can do it the easy way…or the hard way.
Designed and engineered in America, the Cut Ready Cut Center is made to simplify and automate your production.
It allows you to remain a cabinet shop, focused on making custom cabinets, instead of a software company, worried about learning difficult and expensive software.
The Cut Center takes care of both the big and small details so you don't have to!
Making product on the Cut Center requires neither a CNC programmer nor a trained machine operator. Pretty much anyone can run a Cut Center, and make anything a cabinet shop might need (cabinets, closets, doors, moldings, stair stringers, furniture...and much more)!
---
Model 45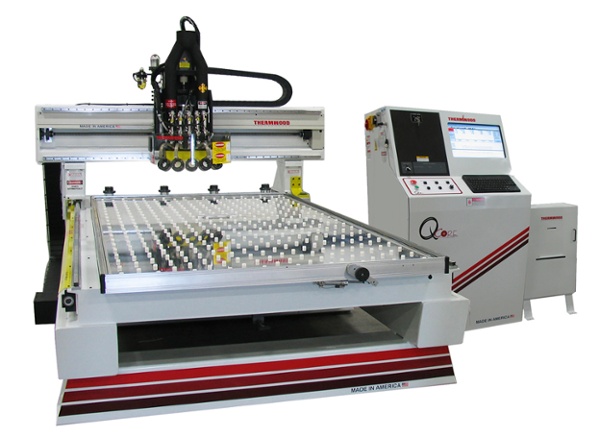 We will also be machining solid wood and aluminum and plywood sheet stock on the Model 45.
The heavy-duty Model 45 is designed for a variety of functions, including the machining of rotary operations when equipped with our optional C-Axis. This expands the capability of this already useful machine to include volutes, carvings, chair parts, stair components and much more.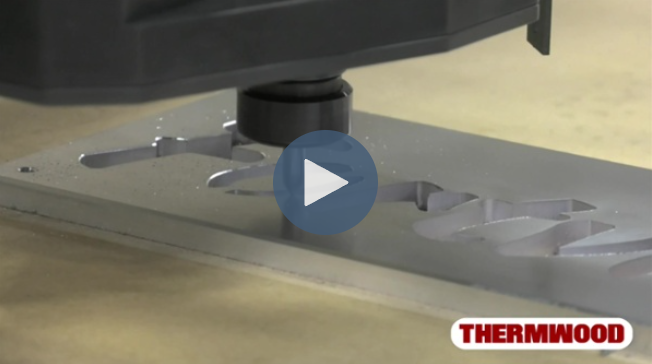 ---
Check us out in Booth #B6213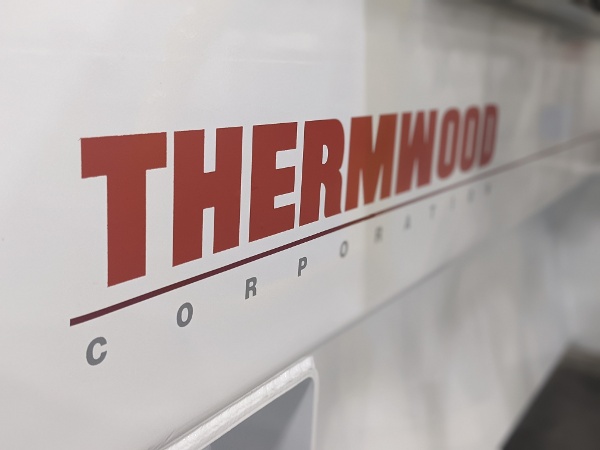 We'll be demonstrating live on all three machines during the show, as well as operating an eCabinet Systems kiosk. Our eCabinet Systems expert will be designing nested-based applications on the fly to send to be machined.
In addition to our Cut Center live demonstrations, we will also have two Cut Ready kiosks, where you can explore the software and see just how easy it is to design most things a cabinet shop would want to make.
Please visit our booth (#B6213) and speak to a Thermwood representative to learn more about these powerful and affordable additions to any shop!