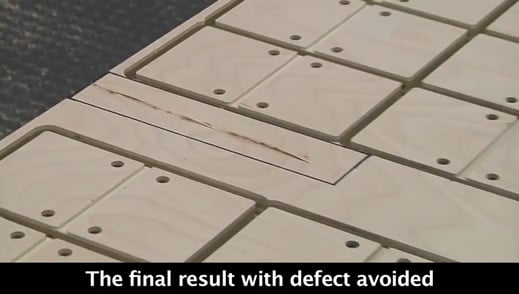 Smart-routers allow you to nest around defects to use damaged or flawed material. This feature can save you a lot of material, which in turn can save you a lot of time and money.

When using this feature on nested based jobs, a smart-router saves you money by reducing the amount of scrap material that is wasted. This in turn saves you a substantial amount of money, and ordinary routers just do not focus on this area. They rely on the user to take care of checking the material for flaws, and this means that the operator must be both skilled and well trained to work within the limits of these systems.
Smart-router Advantage
Smart routers address areas like this in a big way - they address the areas where you spend the most money because that's where you can make the most money. Ordinary routers may seem less expensive at first, but may prove to be much more expensive in the long run.
---
Please click the "Request a Consultation" link above or give us a call at 1-800-533-6901 and we will sit down and show you how all this happens, in detail.