Current Problems When Assembling Cabinets in the Field
Creating the components of your cabinets is one aspect of the job, but you also need to be able to assemble them quickly and correctly.
Many cabinet shops manufacture cabinets at one location and then assemble and install at another (the customer's home, etc). When you flat-pack an entire kitchen's worth of cabinets so that it stacks neatly, it can quickly become confusing and frustrating to then put everything together correctly in the field.
First, Sorting the Parts For Each Cabinet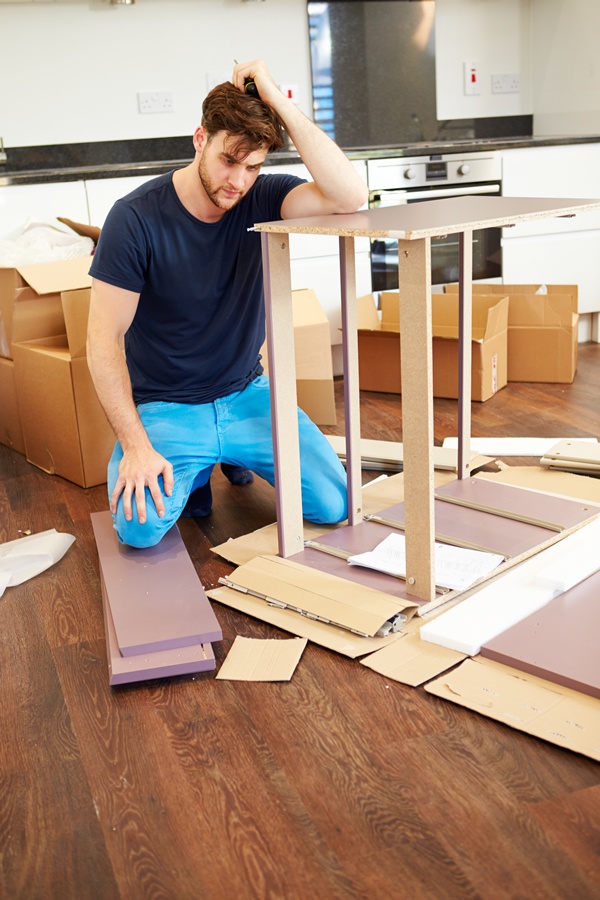 A typical nested based job consists of hundreds of parts representing perhaps dozens of cabinets, all intertwined into a series of nests. Your first task is to separate the parts into individual cabinets.
This is normally done by placing labels on each part. Each label has a text statement with the cabinet name. Simply read the name and sort the cabinets by those names - sounds easy, right?
Not So Easy
While this sounds simple, it actually takes quite some time. You must read each label on the stacks of parts you are sorting to find the matching names for each cabinet (this can be a problem if your worker(s) don't read or speak English). This reading also takes time and parts sometimes have similar names so mistakes can be pretty easy to make.
The Solution
Time is money, and Thermwood has the solution to save you both in the form of our Patented Assembly Marks and Color Coded Labels.
Color Coded Labels Speed Up Sorting Time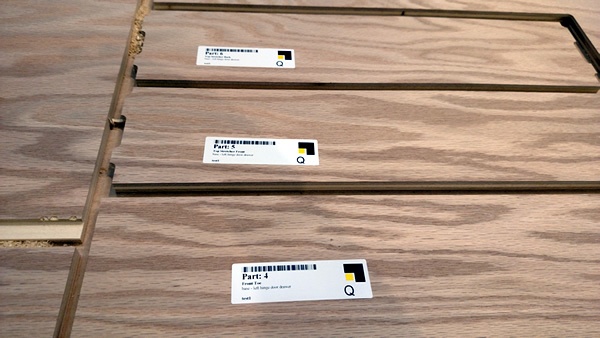 Thermwood's approach prints a color bar on each label with a different color for each cabinet. (put the red parts with the red parts and the green parts with the green parts, etc.). This simple idea allows you to sort cabinets two to three times faster. This offers a significant productivity improvement.
Bar Codes for Remaking Scrapped Parts
Each label also has a unique bar code that can be scanned to remake any damaged part(s) easily and quickly.

Assembly Marks Speed Up Assembly Time
Thermwood's Patented Assembly Marks are a significant productivity improvement when it comes to actually putting the cabinets together. Simple cabinets are not all that difficult to assemble, but as cabinet designs become more complex, with fixed partitions, shelves or other features, determining exactly how to assemble the parts can become difficult.
Generally you must create and print assembly drawings, and sometimes even with these drawings, the process of sorting out the structure can take significant time.
How Assembly Marks Work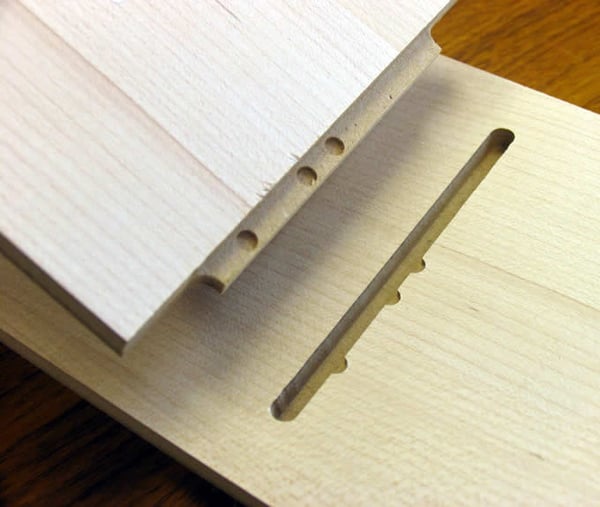 Thermwood's approach machines unique assembly marks into each joint to define which parts mate together. These marks are hidden once the parts are assembled.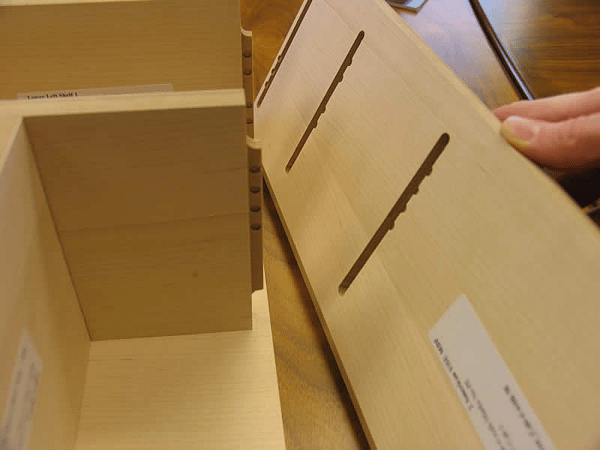 Non-Skilled Workers Can Easily Assemble Cabinets
Assembly drawings aren't needed and in fact, totally non-skilled workers can easily and quickly assemble even the most complex cabinets.
One shop owner asked his cleanup man to assemble a cabinet as a test. This totally unskilled "cabinetmaker" assembled the cabinet quickly and accurately with no drawings or instructions. For most jobs this represents a significant productivity improvement that could rival the machining process itself.
The Bottom Line
Thermwood's approach can save you significant time and money through the use of Assembly Marks and Color Coded Labels to improve your accurancy and productivity when sorting and assembling your cabinets out in the field.