What Do You Get With a Thermwood Machine?
When you purchase a CNC router from Thermwood, you get a superior machine, a superior control, superior performance and the best service and support in the business. Our CNC Experts work with you during every step of the process to insure that you receive the optimum machine configuration for your specific application, and that you gain the knowledge and assistance you need to get into production as quickly as possible.
You are never on your own with a Thermwood machine, and help is always free for the life of the machine! Below, we'll go into more detail on each step of the Thermwood Total Solution process: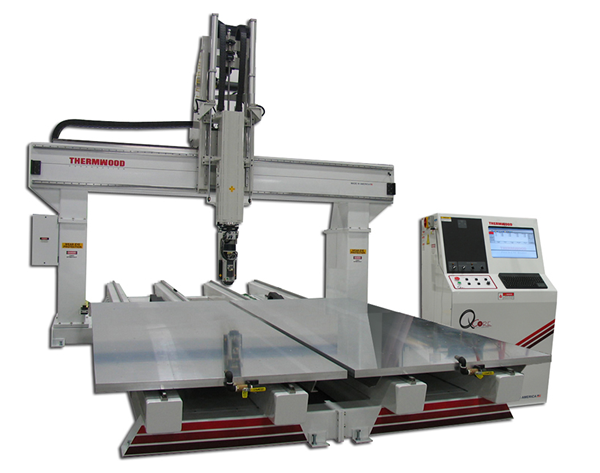 Thermwood Model 90 5 Axis 5'x12' Dual Table CNC router
---
Customize Your Solution
Thermwood's Total Solution means that we can customize your machine operation to suit your specific needs. Our experienced program techs can create new programs or modify your existing programs, work with you on fixturing and tooling, create custom interfaces for your control and much more.
Because we are a single-source manufacturer, we can easily modify and hone any part of the machine or control to fit your exact need. Our ultimate goal is to provide the best solution possible with the lowest learning curve for you. We'll stay by your side during each step of the way. We also provide phone, email and forum support, always free of charge.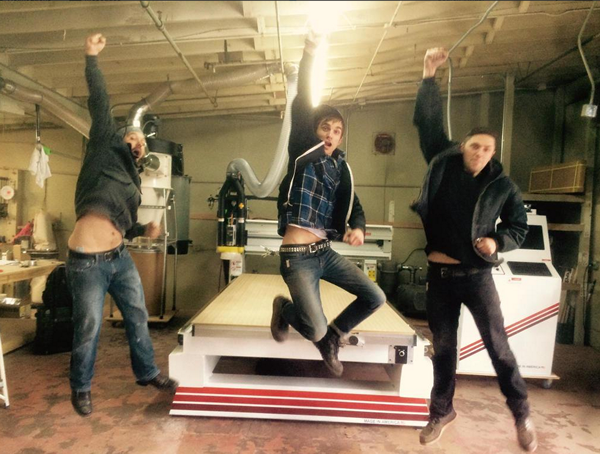 Thermwood Customers IDL Worldwide with their new Model 45 CNC router
---
Support When You Need It
Our Total Solution also means that support doesn't stop with the sale. We are by your side during your five-day training course at our state-of-the-art factory as well as during installation at your facility. During installation, you are paired with a dedicated CNC Expert to work with you one-on-one at your facility to answer any programming and operation questions you may have. Their goal is to make sure your Thermwood CNC machine gets into production as quickly as possible and running at its optimum performance.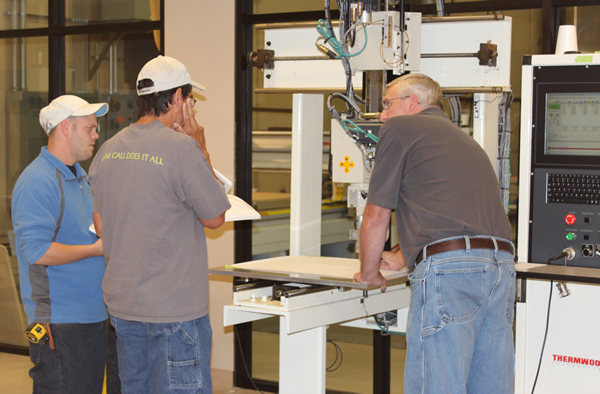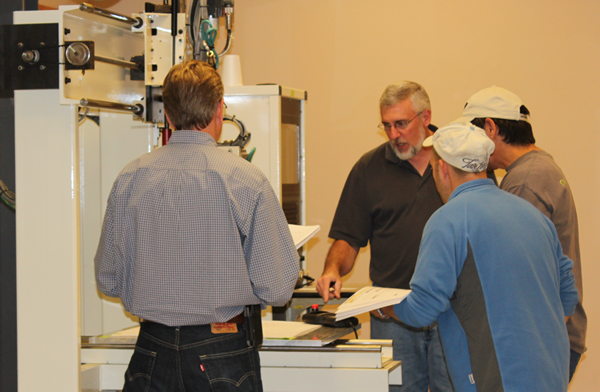 Thermwood Customers learning programming skills during our five-day training class
---
The Thermwood Total Solution:
Training and Production Support
In-Depth Machine Training at our state-of-the-art facility
Production Start-Up Assistance at your facility with a dedicated CNC Expert
Help from our CNC Experts when you need it via phone/email/forum
Customizing Your Solution
Customizable Control Interface (we can create a custom control interface just for you)
Customizeable Machine Operation (modify/create new programs and/or machine hardware)
Fixturing and Tooling Assistance
Better Machines
High-Performance, Highly Reliable Siemens Drives Throughout
Full Function, High Performance CNC Control (future-proofed with an upgrade path)
Designed using State of the Art CAD/CAM
Weldments Fully Stress-Relieved
Three-Dimensional Laser Compensated
More Features
Mobile App - track the operation of your Thermwood CNC router(s) and the programs that run on them from anywhere by using your cell phone, PC or other mobile device
Extensive Software Capability (control accepts output and can even combine files from a wide variety of design software)
Automatic Tool Management (manages tooling and tool life - not easy without this feature)
Maintenance Tracking (manages lubrication and routine maintenance based on actual machine use)
Error Reporting (graphically displays location of error and suggests remedy)
Maintenance Videos (on-screen videos guide you through adjustment and repair)
Dynamic CAD Drawings (view and explode every machine assembly on the control screen)
Dynamic On-Screen Manuals (view and search the machine manual from the control screen)
Better Service and Support
Free Phone/Forum/Email Support
Virtual Service (instantly address virtually anything a service visit can - fast)
Free Ongoing Control Updates (not available from others - you're stuck with what you have)
Quick Tech Service Visits Directly from the Factory When Needed (single source responsibility)
Extensive Spare Parts Inventory with Overnight Shipping
---
The Bottom Line:
Our systems install fast, start up quick, are easier to use and maintain, produce more and last longer. The Thermwood Total Solution means that we work with you before you buy, after you buy and into the future to make sure you get the best performance and financial benefit from your Thermwood machine.