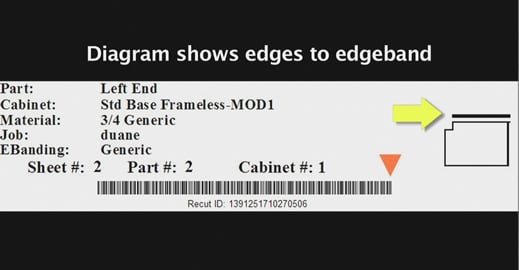 Smart-routers use smart labels to make parts easy to sort and edgeband.
Most jobs consist of several individual items, for example, a kitchen full of cabinets. To get the most efficient nests, parts are scattered throughout the job. Once complete, the first thing you must do is figure out which parts go with which cabinets. Smart-routers use a color symbol on the labels. Put the parts with the same symbol together; red circles with red circles, blue triangles with blue triangles, yellow squares with yellow squares, etc. Color symbols are much easier to sort than text descriptions. This saves a ton of labor. Using a diagram of the part, smart labels also show which edges need to be edge banded.
Thermwood at AWFS 2013
Thermwood will be demonstrating many of the features of smart-router technology and nested based manufacturing at the 2013 AWFS show on July 24th-27th (Booth #8400). Plan to stop by and check it out, or click the button below to request a personal consultation on how we can help improve your production process.
---
Please click the "Request a Consultation" link above or give us a call at 1-800-533-6901 and we will sit down and show you how all this happens, in detail.