---

---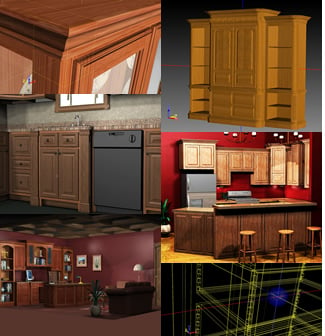 If you want the ability to create any type of custom cabinets you can conceive, as well as closets and custom furniture, we have a solution for you. eCabinet Systems paired with Thermwood's CNC routers (featuring smart-router technology) allow you to program and run anything you can imagine and design, while offering total flexibility and absolute control of the entire process.
Although our CNC systems work with just about any cabinet design software, eCabinet Systems software is so well integrated with the machine control that production is smoother, problems are fewer and profit is much higher. Systems are available for custom or high volume custom nested based cabinet production.
---
Thermwood smart-router technology is...

---
Model 43 and eCabinet Systems
| | |
| --- | --- |
| | A great custom cabinet package is the CabinetShop 43 paired with eCabinet Systems. This high-performance CNC router, comes standard with Thermwood's smart-router technology as well as a fully stress-relieved rigid steel structure. Table sizes range from 4'x'8 up to 5'x20' and it comes with an 11 position automatic tool changer as standard. This solution allows you to quickly and profitably produce any type of custom cabinets you can imagine and design, as well as a lot more. |
---
AutoProcessor series for nested based feed through machining
| | |
| --- | --- |
| | For high-speed/high-volume nested-based CNC routing, the AutoProcessor series is another excellent option. This heavy-duty system comes standard with auto-labeling and auto-load/offload to increase throughput and cut down on labor. Table sizes range from 5'x10' to 7'x12' and it comes with a standard 10 position rotary automatic tool changer. With a rapid speed of 4100 IPM and a 6000 lb automatic lift table for loading material, the AutoProcessor series is a very fast and extremely tough solution for nested based feed through machining. |
---