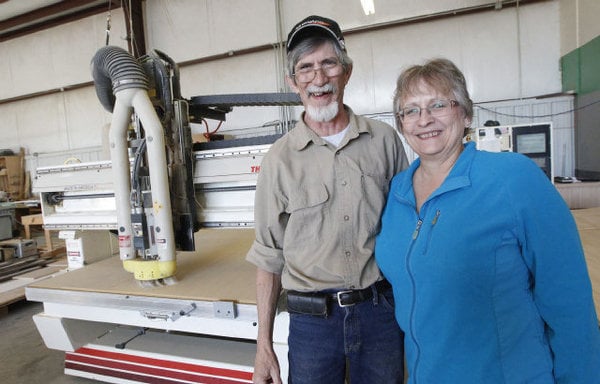 Woodsong Cabinet & Trim at 100 W. 61st St. North Suite E in Park City, is expanding from commercial millwork into custom-cut furniture.
"I see a lot of potential with it to help diversify us into another line of work, which I think is very important these days," said Carolyn Pierce, who owns Woodsong Cabinet & Trim with her husband, Randy.
Woodsong is now a YouBuild Cut Center. Customers can select a piece of furniture online and have it cut at the local store, with or without assembly.
The furniture styles are modular, and customers can pick the type of wood, configuration, dimensions and finish at www.YouBuild.com. The order is sent to the nearest YouBuild Cut Center for cutting and labeling.
The furniture is made of American-grown lumber plywood and is formaldehyde free.
"We're excited about this," Pierce said. "It's just a really neat concept, and I think it has a lot of potential for the customers."
The company, which has been in business since 1998, had seven employees last year and is now down to three, Pierce said.
They hope the new service and partnership will help the business and allow it to hire more employees.
"If YouBuild gets up and going, there's potential there to look to expand again," Pierce said.
The YouBuild program is affiliated with Thermwood Corporation, a manufacturing technology company based in Dale, Ind.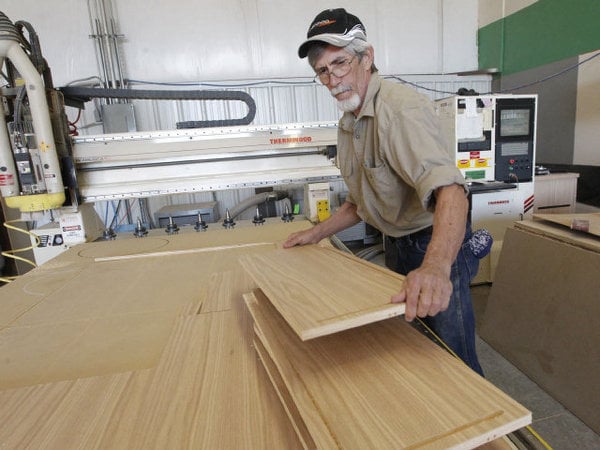 Woodsong uses a Thermwood millwork machine, and that's how the business learned about the YouBuild program, Pierce said.
Woodsong's business has focused mainly on clinics, pharmacies, schools and similar projects. A few years ago, the company focused on packages for restaurants nationwide.
"When the recession hit, the restaurant business was one of the first to take a hit in commercial building," Pierce said. "Since then, we switched back to local contractors and a local focus."
Now, Woodsong is looking for local businesses to help market the custom-cut furniture.
"It's a fairly new concept. We're looking for a design center to get the product out here into clientele hands," Pierce said.
---
You can find more information in the YouBuild section of the eCabinet Systems web site and at youbuild.com.