Thermwood's AutoProcessor 43 Machining Center is an all-new complete, nested-based, CNC routing system for machining cabinet boxes, custom furniture and basically any nested type of sheet product.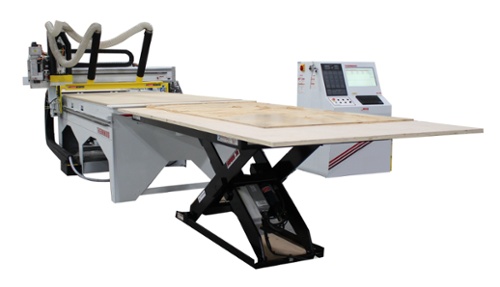 AutoProcessor 43
The AutoProcessor 43 is fully automatic from labeling and positioning of the sheets, to machining and off-loading the machined parts.

With each cycle, the machine simultaneously and automatically:
Labels each part area on the sheet
Moves and automatically positions the sheet on the table
Machines the material while labeling the next sheet
Simultaneously off-loads the finished parts and reloads the next sheet
Continuously repeats the process
Standard Features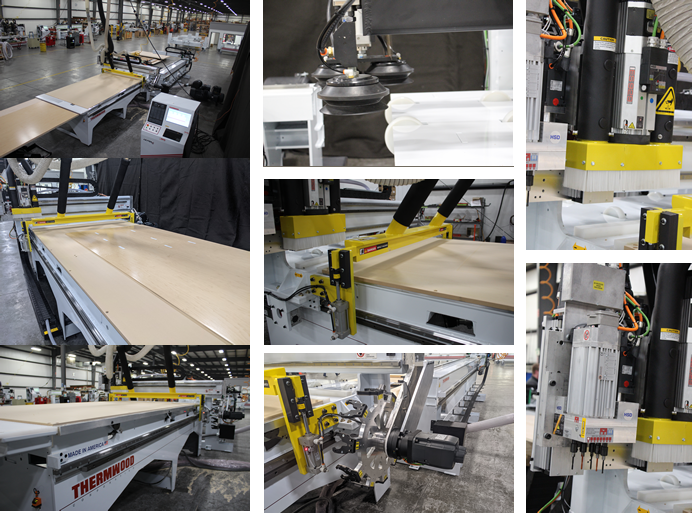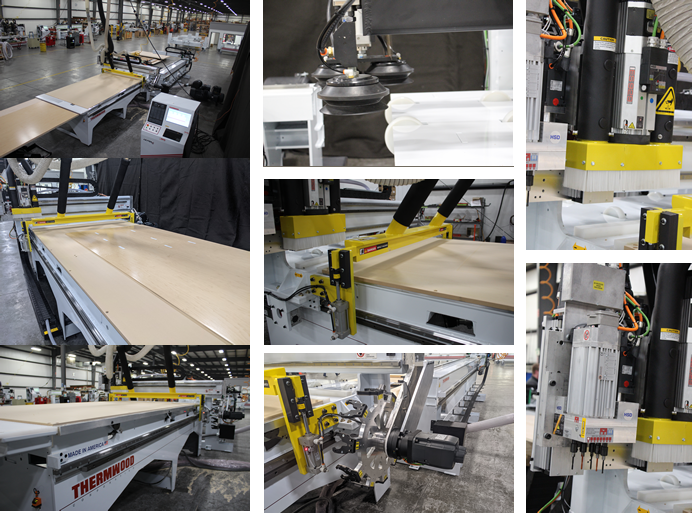 5'x10' (1.5m x 3.0m) Fixed Table
Moving Gantry
10 Position Automatic Rotary Tool Change System
12 HP (9kw) ISO Electro Spindle
High-Flow Vacuum Table
Automatic 6000 LB Lift Table for Loading
Simultaneous Automatic Labeling System
Automatic Dust Extraction During the Unload Raking Process
Automatic Pop Up Pins
Automatic Tool Length Sensor
Automatic Lubrication System
Automatic Sheet Load/Unload System
Automatic Sheet Positioning System
Siemens Intelligent Servo Drives Throughout
3D Laser Compensated Axis Alignment
SuperControl
Control Nesting
5 Spindle Drill Bank (Optional)
Unload Sorting Table (Optional)
Touch Screen Control (Optional)
Well Equipped with Features/Options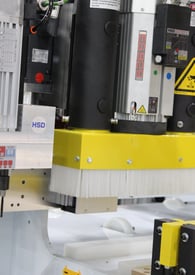 12 HP (9KW) SPINDLE
A direct driven spindle with a speed range up to 24,000 RPM. the High Frequency Spindle is cooled with an electric fan for quieter running and contains ceramic bearings for longer life and for less maintenance. The 12 HP (9kw) spindle provides the user with a heavy duty, precision spindle for high performance and reliability. Standard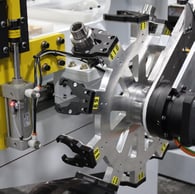 ROTARY AUTOMATIC TOOL CHANGER
10 Position Rotary Automatic Tool Changer Includes (10) ISO-30 Tool Holders and collets. Max tool size is 2" (50mm) in diameter and 3.25" (83mm) in length. Standard (optional HSK63F)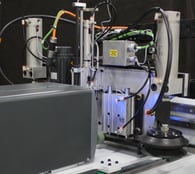 AUTOMATIC CNC LABELER SYSTEM
The Automatic CNC Labeler System labels the sheet before the machining operation. The labels assist with sorting and assembling finished parts. Optional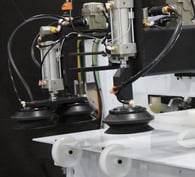 AUTOMATIC LOAD/UNLOAD SYSTEM
Automatically loads sheets up to 60" x 120" (1.5m x 3.0m) to assist operator with unloading the machine and automatically position the sheet. Each individual sheet is elevated and positioned by a series of programmable vacuum cups. A steel rake is mounted in front of the router motor and travels with the machine gantry allowing parts to be removed off the front of the table. Dust extraction/table sweep occurs during the rake process. Standard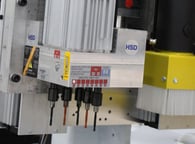 FIVE SPINDLE DRILL BANK
The drill unit is a vertical boring head with five vertical spindles. The spindles are on 32mm centers. The drill unit can be independent. Optional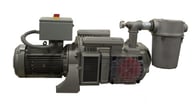 VACUUM PUMP
Universal Vacuum System is a unique method for holding panels to the table top for machining. A sheet of MDF is used as a work surface on the top of the table. The high flow pump vacuums through the work surface, holding the part to the table. Pumps are available in different sizes. Optional
About Thermwood Corporation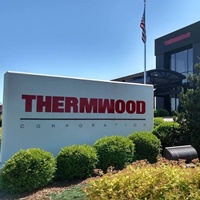 Thermwood is a US based, multinational, diversified CNC machinery manufacturer that markets its products and services through offices in 11 countries. Thermwood is the oldest manufacturer of highly flexible 3 & 5 axis high-speed machining centers known as CNC routers.
Thermwood has also become the technology and market leader in large scale additive manufacturing systems for thermoplastic composite molds, tooling, patterns and parts with its line of LSAM (Large Scale Additive Manufacturing) machines that both 3D print and trim on the same machine. These are some of the largest and most capable additive manufacturing systems ever produced and are marketed to major companies in the aerospace, marine, automotive and foundry industries as well as military, government and defense contractors.