Habitat for Humanity will be the beneficiary of CNC Automation's technology and generosity at the Woodworking Machinery & Supply Expo (WMS) October 27-29.
The St. Zotique, QC-based company plans to make and assemble parts into residential casegoods at its exhibit booth throughout the three-day show, taking place for the first time ever at the Direct Energy Centre. The casegoods will be donated to Habitat for Humanity Restore in Ontario.
Making this live production possible are three production lines that CNC Automation will have in operation during WMS. They include:
Solid Wood Processing, CNC's newest division, will showcase Kentwood moulders and Ironwood classical woodworking equipment to manufacture five-piece wood cabinet doors.
Panel Processing, including Thermwood CNC nested-based routers, Omal drill and dowel insertion equipment and a panel saw, will produce case good components.
Spray Finishing & Sanding, featuring Timesavers calibration sanders, Loewer finishing sanders and Makor water-based spray systems, will be used to finish the solid wood parts.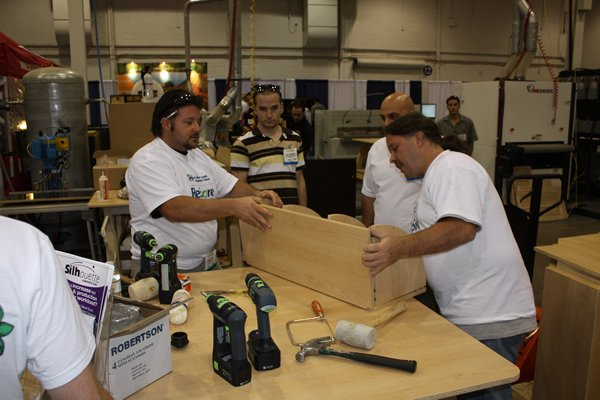 In addition, CNC Automation is finalizing plans for a tour of Toronto-area woodworking facilities to take place on Wednesday, October 26, the day before the show opens. To assist out-of-town customers, the company has secured a block of rooms at the Fairmont Royal York Hotel conveniently located to the Direct Energy Centere.
"We are extremely excited to see the change in venue of the WMS show," said Daniel Comeau vice president, general manager of CNC Automation. "The move to downtown Toronto has injected the market with a new enthusiasm in this important Canadian event. The WMS show is an important part of the Canadian marketplace. Canadian manufacturers deserve and should expect a "locally" based and focused showcase of products featuring the newest technologies."
"CNC Automation is committed to all of our customers Canada wide," Comeau added. "The WMS event provides us the opportunity to express this commitment to the Canadian marketplace. As a Canadian machinery dealer, we owe it to our Canadian customers to provide a Canadian event where they can view the latest technology and be exposed to new ideas that are important to their future growth and prosperity."
Please visit CNC Automation's booth at WMS in Toronto. Booth #'s are 129 and 1504.
For more information please visit www.cncautomation.com (800.421.5955) or www.thermwood.com (800.533.6901)