---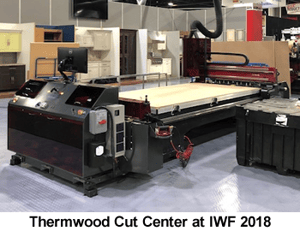 IWF 2018 (August 22nd-25th) starts tomorrow, and we are putting the final touches on our booth (#6735). What better reason to visit Atlanta, than to see the latest technology and products from Thermwood?
This year, Thermwood is proud to demonstrate the all new CUT READY 43 and the award-winning CUT CENTER (both help you quickly and easily create most products a cabinet shop would want to make without a CNC programmer), and both with Artie Inside.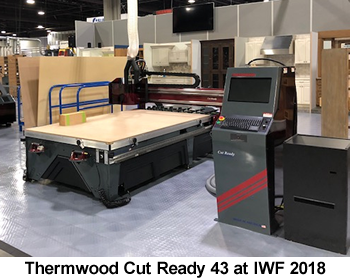 You'll have the opportunity to see just how easy it is to run these powerful CUT READY machines. We'll be demonstrating live during the show, and you can be part of it by helping to operate the CUT CENTER and the CUT READY 43!
We will also have two CUT READY kiosks available for attendees to try out the CUT READY software during the show. Thermwood personnel will be standing by to answer any questions you may have.
CUT READY Series With Artie Inside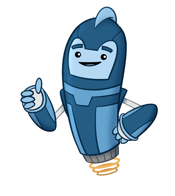 Both of these machines in our new CUT READY Series are equipped with Artie Inside. Despite the cute name, Artie is actually a cutting edge, artificial intelligence engine inside the CUT READY control.
You tell him what you want and he creates a program to make it. These are not pre-programmed libraries. No part programs exist in the control until Artie creates them. This is nothing less than a bold next step in the evolution of the CNC router.
Artie is already capable of programming tens of millions of unique products and is constantly learning how to make and do more and more new things. Artie is easy enough that virtually anyone can work with him with little or no training.
Solid Wood Machining on the Thermwood MODEL 45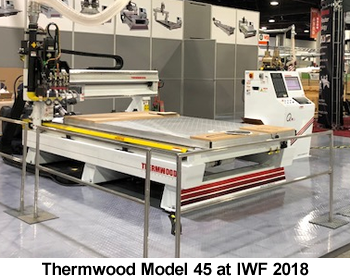 We will also be demonstrating solid wood, aluminum and plastic sheet parts on the Thermwood MODEL 45, utilizing a pod system and aggregate tooling.
The heavy-duty MODEL 45 is designed for a variety of functions including the machining of rotary operations when equipped with our optional C-Axis. This expands the capability of this already useful machine to include volutes, carvings, chair parts, stair components and much more. The MODEL 45 is also equipped with smart-router technology that helps save labor and material, are easy to use and will make you a lot more money than ordinary routers.
See in operation at IWF 2018!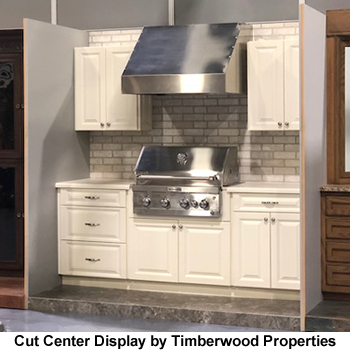 The CUT READY 43, the CUT CENTER and the MODEL 45 will all be on display and cutting live at IWF 2018 (Thermwood booth #6735). We will also have several displays created on the CUT CENTER, as well as some created by our customers, like this outdoor kitchen, designed and machined by Timberwood Properties in Leesburg, FL .
Make plans to see this exciting new technology in person and attend IWF 2018 (August 22nd-25th) at the Georgia World Congress Center - Atlanta, GA., or contact us at 800-533-6901 for more information.



---