Thermwood's IWF Challenger's Award Winning "Cut Ready – Cut Center" is an alternative to CNC routers for making custom cabinets and furniture.
Here we want to help you answer the question: Is a Cut Center the right machine for me?
We provide insight into this incredible machine and reasons as to why you would choose a Thermwood Cut Center over a traditional nested based CNC router.

Is a Cut Center Right For Me?
First, a Cut Center is clearly not a CNC router. It may look a little like a CNC router, but it doesn't work at all like a CNC router.
A nested based CNC router has three basic elements:
A control capable of running sophisticated software
Cabinet design software capable of creating the required CNC programs
A machine capable of running those programs.
It requires a significant effort to engineer, select, buy, install, learn, tool, program and operate a CNC router system. While many shops embrace this challenge, many others do not.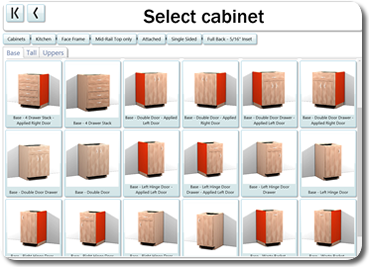 A cut center consists of a single element, the machine. Everything is inside the machine, pre-selected, pre-installed and ready to run. There is no programming with a cut center. That's right, no programming… none. A cut center actually knows how to make cabinets, allowing the user to make cabinets in about any way they want by simply selecting the desired product. You simply tell the machine what kind of cabinet you want (face frame/frameless, single/double side material, toe kick/detached toe, etc.), then select the specific cabinet from all the cabinets made that way and adjust the size.
Installing a Cut Center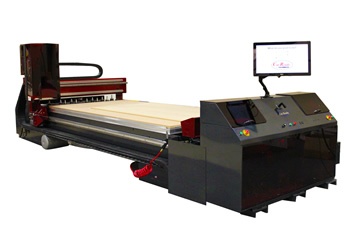 Installation of a cut center couldn't be easier. the process simply consists of connecting power, air and dust collection and you are ready to run production right away. A new Cut Center comes with the program definitions and tooling preloaded.
Cut Center Has an Impressive Selection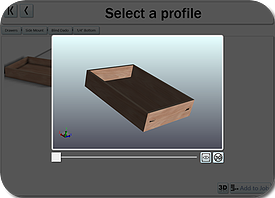 The number of products you can make with a cut center is impressive. In addition to kitchen cabinets, there are closet, bath and utility cabinets and furniture (including book shelves, entertainment walls and table tops). You can also make drawers; side mount, undermount or slot slide, quarter inch or full thickness bottom, blind dado or dovetail construction. Simply tell the cut center to make drawers for the cabinets you cut and it does it - just that easy.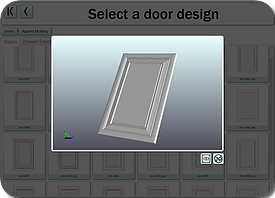 It also makes doors and drawer fronts. There are over 450 designs for MDF doors and drawer fronts including square, arch, cathedral, slab and sophisticated applied molding designs with both raised and recessed panels.
You can also make grain matched slab doors. Just like with drawers, simply tell the machine to make doors for the cabinets you just cut and it does it. It even makes moldings, both straight and arched. Select from hundreds of profiles, resize the profile in width and depth and it makes it. It uses a reverse 3d printing technique for MDF doors and moldings where, instead of adding a small amount of material each pass, it removes a small amount. This means that everything in the system is made with a set of standard tools.
Add Your Own Unique Products to the Cut Center
You may be impressed with the huge selection of products already in the Cut Center, but are thinking "But what about my custom stuff? How can I have that added to the Cut Center as well?" With our new "Special Products" program the answer is simple, we add them for you!
With this new program, definitions for your unique products are custom developed and installed in your Cut Center. These are not just CNC programs. Definitions teach your machine to make your products in all their variations, all their sizes, from all the materials you use. The machine does it all!
How Does This Work?
The process begins by developing a formal, written description of the products you want to make. This description details all aspects of the product and becomes the guiding document for the development team
Once product definitions (based on your description), are complete, sample products are run to make certain that they function properly and that you are happy with the result.
We then install the new definitions in your Cut Center. If you are installing several items, a Thermwood technician may visit your shop to help get you going. Otherwise, we can connect online, directly to your Cut Center, and make additions or changes as needed, without the need for a technical visit
Add more than just Cabinets and Furniture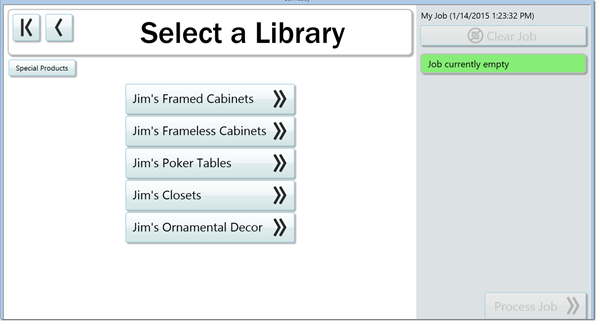 This service is not restricted to cabinets or furniture items but will work for about anything that can be run on a CNC router. Some products may require special fixtures to hold the part and/or special tooling. In those cases the required fixtures and tools will be detailed in the written description and will be developed, tested and supplied as part of the "Special Products" package. All you do is select and run them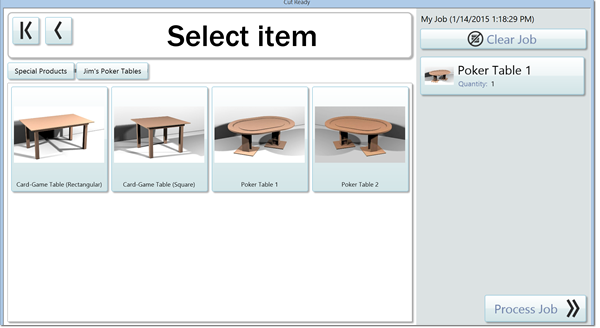 Add More Products at any Time
You can add additional products at any time and have existing product definitions modified if necessary. We stand ready to manage your product offering so you don't have to
With the "Special Products" addition you still have all the features and product capabilities of the Cut Center, with your unique products as an added benefit
Operating the Cut Center
Running the cut center is also different. Everything is handled through an adjustable touch screen and a remote "clicker" you wear. Pretty much everything is handled automatically, tooling management and tool life, vacuum hold down and spoilboard management. All the operator does is follow step by step instructions. If needed, there are "Show Me" videos for each step. You can even call a real live person on the screen if you need more help.
Easy to Run by Almost Anyone
A cut center can be operated by just about anybody, allowing you to produce a lot of different products with no programming and almost no effort. Thermwood has invested thousands of hours developing, testing and refining these programs. To duplicate this for a CNC router would also require thousands of hours.
There is a smooth integration between cabinets, drawers, doors and drawer fronts. For example, once you cut the cabinets, you can make everything else by just telling the machine to make the rest of the components for those cabinets.
Easy Assembly
Details in these cabinet designs (some patented), make assembly easier. Assembly marks machined into the joints show you which parts fit together and in which orientation and alignment pin holes make installing drawers really easy.
The machine will also print detailed step-by-step assembly instructions for more complex items like closet cabinets. It also prints a label for each part showing you which job and cabinet the part is for, which edges get edge banded and a bar code in case you need to re-make the part.
Flipping the Sheet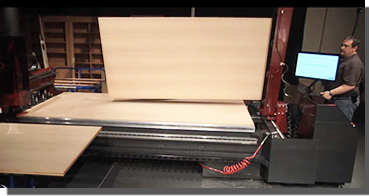 There is a major difference in the way the cut center handles parts that need to be machined on both sides (more complex pieces like closets or cabinets made from single sided material often require machining on both sides).
CNC routers generally cut the front side, cut the parts out and then machine the back side one part at a time. Not only is this difficult, but it can be confusing and is prone to error.
The cut center starts by loading the sheet, back side up and doing the back side machining first, on the whole sheet. It then flips the sheet over and machines the front side. When the parts are cut out, they are complete, front and back. A really unique feature of the cut center is that it has a "flipper" on the front of the machine that flips the sheet over, so this process is really easy. Just slide the sheet into a clamp located just off the front of the table and the clamp grips the sheet and rotates it 180 degrees, all within the confines of the table. When you first load your sheet, if the backside is not up, you can use the flipper to fix that too.
Free Ongoing Updates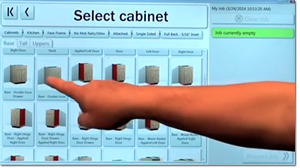 Thermwood is continuously expanding the products our cut centers can produce, driven by feedback from users, and these new designs are available to all cut centers as a free download. System software updates are also available as a free download as they are released. The "Virtual Service" feature mentioned above is also available to cut center users for free.
Less Cost Over Time
Cut centers represent a departure in thinking from how things are done today and this new approach seems to make a lot of sense for a lot of cabinet shops. With lease payments around the cost of a single employee, cut centers make sense for nyone who just wants to make cabinets and not spend a lot of time learning to program computers.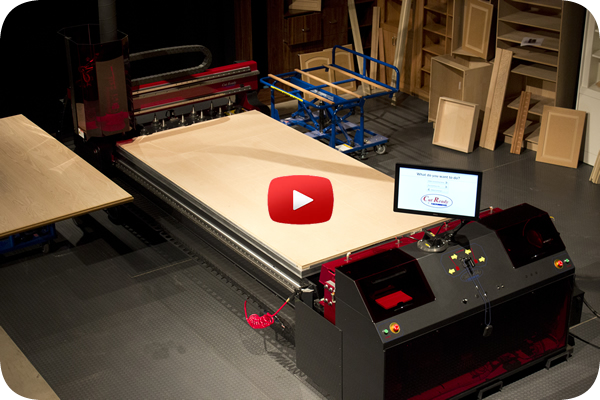 ---