Quite a few custom cabinet shops haven't automated because they just don't like computers. They don't want to get involved with design software, CNC programs or any other complex technology. They just want an easy method to make cabinets.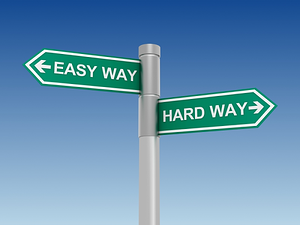 Now, there is a way for them to automate without any of that. It's a different kind of machine called a "Cut Center" and it is available from Thermwood. With Thermwood's "Cut Ready - Cut Center" there is no programming, no design computer, no design software, no machine parameters or complex systems. You simply tell the machine what you want and it makes it for you.
True, there is a huge amount of highly advanced technology in a cut center, but the user doesn't need to know, understand or deal with it any more than you need to know and understand the technology that makes your car run. With a car, all you want to do is drive. With a cut center, all you want to do is make cabinets and a cut center knows how to make cabinets.
just tell it what you want to make
The cut center runs through a touch screen, sort of like an iPad, but a lot bigger. Tell it what you want … kitchen cabinets, closet cabinets, bath or utility cabinets, furniture, etc. Next, (depending on what you select), tell it how you want it made…face frame or frameless, single or double sided material, toe kick or detached toe, etc. Now select a cabinet configuration from the list presented, adjust the size and make it. The machine guides you through the process, step by step.
This is pretty easy and when the cabinets are done, you can make drawers, doors and drawer fronts for those cabinets.
There are several kinds of drawers to choose from, side mount or undermount slides, blind dado or dovetail joints, slide-in bottom or full thickness bottom. It is interesting that, depending on the mounting system selected, the drawer will be a different size and built a little different but, the user does not need to deal with any of that. Just tell the machine to make drawers and it takes care of all the details.
doors and moldings
MDF doors are high-end designs that replicate quality five piece doors. They are made using a reverse 3D printing technique where, instead of adding a little material on each pass, a little is removed. This means that every door in the system can be made with the same standard tools that come with the machine, and there are already over 450 different door and drawer front designs. This same technique is also used to make moldings. Hundreds of profiles are available and each can be adjusted in both width and depth and then used to make either straight or arched moldings.
the cut center takes care of it
The cut center is really easy to use, even for people with no real machine operating experience. The control takes care of the complex areas automatically like tool management and tool life monitoring, vacuum hold down and spoilboard management and routine maintenance. It then guides the operator every step of the way and if he doesn't understand any step, it will play a video showing him exactly what to do. And if that isn't enough, the operator can connect to a live Thermwood technician, right on the touch screen, who can answer questions and help with any problems. This virtual service is available whenever needed, as long as you own the machine, and it's free.
Over time, Thermwood plans to add additional products to the cut center, based on user feedback, and these additions will be available to all cut centers as a free download. System software updates are also released as a free download.
less cost over time
In the past, if you wanted to automate your cabinet production but didn't want to deal with computers and software, you were pretty much out of luck. Today there is finally an answer, it is called a Cut Center and it can be leased for about the same cost per hour as a single employee.
more info
Here at Thermwood, we are excited about this new product and direction. We hope it brings the benefits of modern automation to a new segment of the woodworking industry, who (for a variety of reasons), are uncomfortable with or can't work with current methods. You can learn more about this incredible new technology at cutready.com