The 2014 IWF Show (August 20th-23rd) promises to be an exciting opportunity to visit Atlanta and see the very latest technology from Thermwood! Like the all-new Cut Center (make virtually anything a cabinet shop would want to make - with no programming), Model 43 CNC Router (for nested based sheet goods with auto-labeling and unload system) and Model 45 with Nemi Pod System (machining solid wood doors).
Try out the all-new cut center at IWF 2014!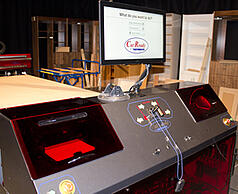 The all-new Thermwood Cut Center (which makes virtually everything a cabinet shop needs, with no programming) will be in action during IWF 2014. You'll have the opportunity to see just how easy it is to run this new machine. Just tell it what you want, and it makes it...it is that easy! We'll be demonstrating live during the show, and you can be part of it by helping to operate the cut center. Please visit our booth (#5513) and speak to a Thermwood representative to get your hands on this exciting machine!
CabinetShop 43 with Auto Labeling and Unload System
Thermwood is also proud to demonstrate our affordable CabinetShop 43 CNC Router equipped with the optional Auto Labeling and Unload Rake System for nested based production. The Model 43 is our entry-level three-axis CNC router for nested-based custom cabinets, custom furniture and support products. This system will be in action at IWF 2014 in Booth #5513.
Speed Up Production Time
This option helps save time by automating the process of placing labels and off-loading finished material. The automated system quickly places the labels and then machines the parts. It next unloads the finished material to a sorting table. This automatic and economical addition can greatly speed up production time, and is available both on new machines and as a retrofit.
Solid Wood Machining on the Thermwood Model 45
We will also be demonstrating solid wood door machining utilizing the Nemi Pod Hi-Flow System and Benz Aggregate on our Thermwood Model 45.
The heavy-duty Model 45 is designed for a variety of functions including the machining of rotary operations when equipped with our optional C-Axis. This expands the capability of this already useful machine to include volutes, carvings, chair parts, stair components and much more.
Model 45 with Nemi Pod System Machining Poplar Hardwood Door:
See at IWF 2014:
All three of these machines will be on display and cutting live at IWF 2014 (August 20th-23rd) in Booth #5513 at the Georgia World Congress Center - Atlanta, GA. Make plans now to visit us and see this exciting new technology in person!