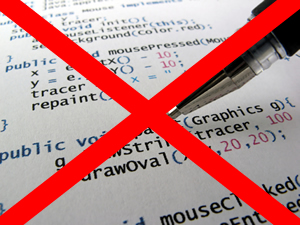 Thermwood has recently announced a new type of machine that makes custom cabinets, closets and furniture with
NO PROGRAMMING
. Unlike a CNC router, where you have to create a CNC program to make something, there is no separate computer, design software or CNC programming with a cut center. You simply select what you want and the machine makes it.
just tell it what you want to make
Thermwood's Cut Ready – Cut Center knows how to make cabinets without you having to tell it every move to make. Face frame or frameless, single or double sided material, toe kick or detached toe, screw dado or pocket dado construction, etc. Just pick what you want, adjust the size and it makes it. It also offers an extensive selection of closet cabinets, bath cabinets and furniture items, but that's not all.
slot slide and other types of drawers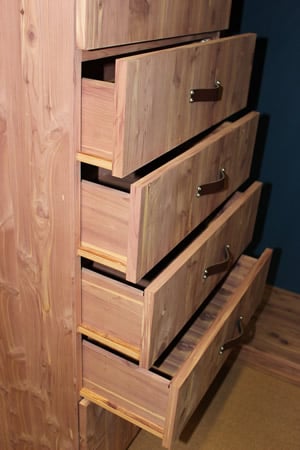 The cut center makes drawers, also in several configurations: blind dado or dovetail construction, quarter inch or full thickness bottom, sized for either side mount or undermount slides. Simply tell it what kind of drawers you want and tell it to make them for cabinets you've cut and it handles everything else. There is also an interesting drawer called a "slot slide" which is available on closet, utility and some furniture items. The drawer bottom extends out each side of the drawer and rides in slots cut into the cabinet sides. High-tolerance machining assures smooth operation without the cost of separate hardware slides. It also means drawers can be made any depth without worrying about slide length and you don't have to worry about alignment, since it is machined in. These are ideal for items such as closet cabinets where it saves the cost of separate hardware slides.
doors and moldings
The cut center also makes doors and drawer fronts in two versions: Slab doors and drawer fronts are cut from sheet stock so that the wood grain flows smoothly across all the doors and drawers on each cabinet. MDF doors and drawer fronts are available in over 450 styles including slab, square, arch, cathedral and applied molding (in both raised and recessed panel designs). Again, simply tell it to make doors and drawer fronts for a cabinet job and it makes them. It even makes applied ends.
On face frame cabinets you can specify wheter the doors and drawer fronts are inset, partial overlay or full overlay and the machine will automatically size them properly for that installation method.
MDF doors are made using a reverse 3D printing technique where, instead of adding a small amount of material each pass, a small amount is removed each pass. This means everything in the system is made with the standard tooling that comes with the machine. This technique is also used to make moldings.
Hundreds of molding profiles are available in the cut center and the size of most can be adjusted. These adjusted profiles are then used to make either straight or arch moldings. There are also a number of carved moldings that can be cut.
The molding area also includes profiles for the stiles and rails used on the applied molding MDF doors. This means you can make solid wood versions of those doors by cutting long sections of molding from solid wood and use them to fabricate mitered wood doors and drawer fronts, all without special molding knives.
the cut center takes care of it
The Cut Ready - Cut Center is extremely easy to operate, even by people with little technical background (at every point the machine tells you what to do). If you ever need help, a "Show Me" button on the large touch screen plays a quick video showing you how to do what the machine is telling you. It handles tool management and watches tool life automatically.
It measures tool length and diameter and adjusts tooling parameters automatically without the operator becoming involved. It handles vacuum hold down and spoilboard maintenance automatically. It automatically adjusts how it cuts parts based on their size and resurfaces the spoilboard when needed, even in the middle of a job. It can even keep track of two spoilboards, allowing for shuffle loading, which can increase throughput by about a third. It also watches routing maintenance, alerting you when you need to service something. As you might expect, a video shows you how to perform each service.
help is a just click away
If you ever need help or have a problem, you can call up a Thermwood service technician, right on the control screen. They can handle diagnostics, adjustments and parameter settings and answer questions. This is a free ongoing service for Thermwood Cut Centers.
innovative sheet flipper saves time and money
The Cut Ready - Cut Center is also equipped with a sheet flipper. Some products, especially when using single sided material or in areas like closets and furniture, require that parts are machined on both sides. The cut center groups these parts on the first few sheets of a job and does the backside machining first, on the full sheet. The sheet flipper is used to flip the sheet over so it can be machined on the front side. This makes parts machined on both sides quite easy to process and offers tremendous design flexibility for future products...and there will be many future products.
free updates
Thermwood plans to continuously expand the products that the cut center can make, based on feedback from users. These additions will be available to all cut centers users as a free download. System software updates are also available as a free download whenever they are released.
less cost over time
Cut centers represent a departure in thinking from how things are done today and this new approach seems to make a lot of sense for a lot of cabinet shops. With lease payments of about the cost of a single employee, cut centers make sense for anyone who just wants to make cabinets and not spend a lot of time learning to program computers.
see at IWF 2014
The Cut Center will be on display and cutting live at IWF 2014 (August 20th-23rd) in Booth #5513 at the Georgia World Congress Center - Atlanta, GA. Make plans now to visit us and see this exciting new technology in person! We'll be demonstrating live during the show, and you can be part of it by helping to operate the cut center. Please visit our booth (#5513) and speak to a Thermwood representative to get your hands on this exciting machine!