We have developed a significant new improvement to productivity - Assembly Marks. Below is an excerpt of this exciting new process: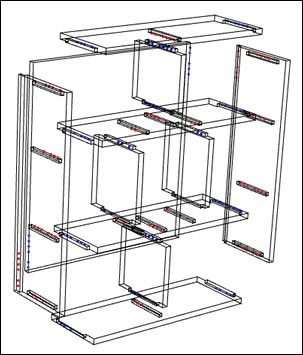 Another even more significant productivity improvement involves actually putting the cabinets together. Simple cabinets are not all that difficult to assemble so major productivity improvement is not likely but as the cabinet design becomes more complex, major productivity improvements are possible. Once fixed partitions, shelves or other features are added to a cabinet, determining exactly how to assemble the parts can become difficult. Generally you must create and print assembly drawings and even with these drawings, the process of sorting out the structure can take significant time.
Thermwood's approach (also patent pending) machines assembly marks into each joint which define which part mates with which part. These marks are hidden once the parts are assembled. Assembly drawings aren't needed and in fact, totally non-skilled workers can easily and quickly assemble even the most complex cabinets. One shop owner asked his cleanup man to assemble a cabinet as a test. This totally unskilled "cabinetmaker" assembled the cabinet quickly and accurately with no drawings or instructions. For most jobs this represents a productivity improvement that could rival that realized for the machining process itself.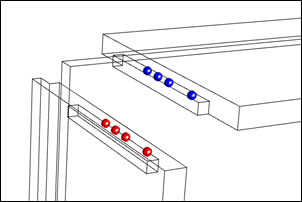 So when looking for productivity improvements from CNC routers look to the supporting or peripheral processes and the impact you could have on downstream processes. Right now, today, that's where the greatest return can be found.
Note: Thermwood has applied for patent protection on the assembly marks, color and symbol coding of labels and the supporting software for these. They will provide a royalty free license under any patents issued for any parts made on a Thermwood CNC router and has offered a royalty free license to software developers for file output to Thermwood CNC routers.