Here is a reprint from an informative article published in Composites Technology about Bedford Reinforced Plastics and their application of Thermwood CNC Routers in cooling tower fabrication: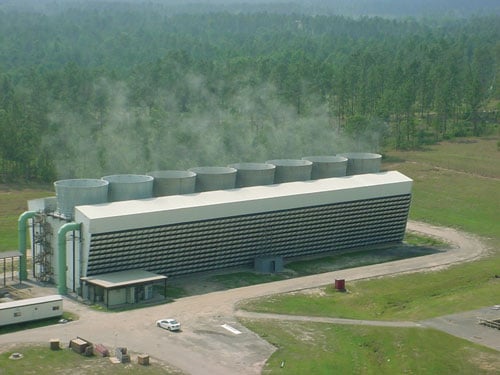 Operators of chemical refineries, mining operations and power plants use cooling towers to reduce the temperature of process water that often contains corrosive chemicals. These large square or rectangular structures house equipment in which heated water trickles downward through filtration media while large fans draw air up through the wet media to transfer the heat to the atmosphere. Although cooling towers traditionally have been made with wood and concrete, composite materials are gaining acceptance due to their corrosion and rot resistance, light weight and ease of installation. "Redwood was used in the past because of its innate ability to resist rot. But, as good redwood became scarce, treated Douglas fir was substituted, and in addition to the negatives associated with the chemicals used to treat the wood, fir just couldn't hold up in the cooling tower environment," says Eric Kidd, cooling tower market manager at Bedford Reinforced Plastics (Bedford, Pa.).

Bedford has pultruded square tubes, angles, channels and deck board for cooling tower alternatives since the mid-1990s, says Kidd, including one of the world's largest - a 46-ft tall, 54-ft wide, 1,080-ft long (14.2m by 16.6m by 332m) structure at Barrick Goldstrike Mines Inc. in Carlin, Nev. Bedford supplied more than 600,000 lb (272 metric tonnes) of pultruded components made with Owens Corning Material Solutions' (Toledo, Ohio) continuous filament mat and E-glass roving, Ashland Inc.'s (Columbus, Ohio) fire retardant polyester and vinyl ester resins and polyester surfacing veil. Drilling the thousands of fastener holes and cutouts that enable assembly and fastening of the tower's skeletal structure is a huge challenge. For that task, Bedford employs five 3-axis, CNC-controlled routers from Thermwood Corp. (Dale, Ind.). Configured with overhead moving gantries, the machines have bed sizes that range from 5 ft by 10 ft (1.5m by 3m) to 5 ft by 40 ft (1.5m by 12.2m). According to VP of marketing Jason Susnjara, Thermwood is the only CNC router manufacturer that supplies its own controller programs with the machines, enabling customers to seamlessly integrate CAD/CAM designs with the controller and postprocessor.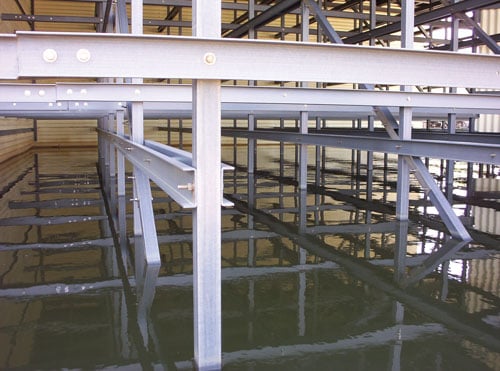 Bedford considers automated drilling and cutting to be essential to optimizing finished-part production rates, hole consistency and location accuracy. The former, says Bedford, reduces product lead time, permitting the company to meet tight customer deadlines. The latter ensures that tower structures assemble correctly on site, without delays for part rework.