We are pleased to introduce a revolutionary new CNC Router System, called the CabinetShop 43, for nested based applications. This new high performance CNC router is built in the US, at Thermwood's Southern Indiana factory and utilizes a whole new, highly efficient manufacturing approach which results in a superior structure coupled with enhanced use of materials, all at a dramatically lower price.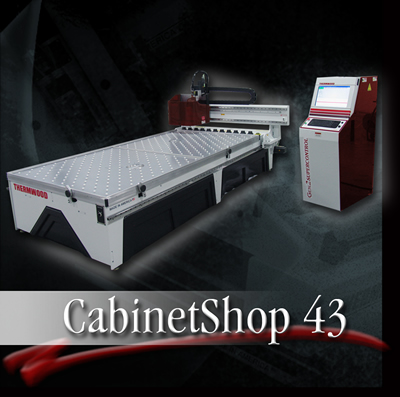 The new machine features a 61 by 121 inch fixed table, a 10 HP HSD spindle and an eleven position automatic tool changer. It offers high acceleration, high performance motions in both positioning and cutting. This new system includes quality features seldom, if ever, found at this price point including full stress relieved weldments, high-end Siemens drives throughout, THK rails and three-dimensional volumetric position compensation.
The system also includes Thermwood's QCore SuperControl which sharply distinguishes it from every other machine in this class offering features such as:
"QuickCut" is the fastest, simplest, easiest way to make cabinets and closets ever. Just select and resize a cabinet from the library and cut it, all right at the machine control.
"Job Level Interface" means you communicate with every major cabinet design software package using a single job file instead of dozens or hundreds of individual programs. Nesting and program development happen automatically at the machine; an approach that offers dramatically simpler operation and higher productivity.
The QCore SuperControl also executes standard G-Code programs developed elsewhere.
The QCore SuperControl also has an impressive list of operating features all with one purpose, make the machine as foolproof as possible to reduce errors, minimizing the time you fiddle with the machine. It runs more with less effort.
- Automatic Tool Management helps you manage tooling and tracks tool life
- Maintenance Tracking tracks machine use and guides you through routine maintenance
- Graphic Error Reporting shows you exactly where a problem is and suggests solutions
- Complete User Manual in the control
- Dynamic CAD drawings of the entire machine on the control screen
- Maintenance Videos on the control guide you through mechanical adjustments
- Virtual Service provides direct link from the control to Thermwood service
Never before has this level of technical sophistication, quality and performance been available at this price. The CabinetShop 43 is ushering in a new era of productivity, ease of use and profit for custom cabinet operations.