Thermwood Cut Center - No Programming Required

The Thermwood Cut Ready Cut Center is an exciting alternative to traditional CNC routers for making a wide variety of products including cabinets, closets, furniture, doors, drawers and much more. Just tell the machine what you what to make and it does it...it is that simple! NO programming is required.
Other CNC Routers - Lots of Programming Required
Every CNC router, regardless of price, has one thing in common..it must be programmed. You will need a CNC programmer. A typical CNC programmer will cost you more each month than the payment on a Thermwood Cut Center, which does not need CNC programs or CNC programmer
So, even if a machine was FREE, it would still cost you more than a Thermwood Cut Center, and in a few years the Cut Center payments go away while your programmer costs most likely will go up.
"Maybe I'll Just Program it Myself..."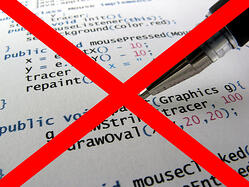 Good luck! CNC routers require a constant stream of programs to run. Solving problems, like damaged or scrapped parts or defects in material means even more CNC programs. Programming custom cabinets on a CNC router is a full time job….good thing you have nothing else to do!
And then there's software. Cheap cabinet software is limited and difficult. It takes more time which means more money. Really good software can cost as much, or more than your cheap router.
And there's scrap. You will have one or more partial sheets left from each job. Regardless of what they tell you, it is so difficult, complex and expensive to add this to new jobs that virtually everyone just throws it away. With the Cut Center, you just scan the label on any extra material lying around and it is added to the job, automatically. This can mean a lot of money saved at the end of the year.

Thermwood Cut Center - Get Into Production Quickly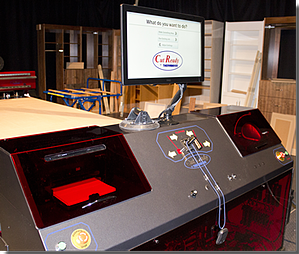 Also, it is likely you will be in full production with a Thermwood Cut Center in about a half a day. A CNC router can take as much as six months to program and get to that point. A half a day or a half a year? There is serious cost associated with that half a year.
Other CNC Routers - Not So Cheap After All
When you consider everything, a cheap router isn't so cheap after all. In fact, to match a Thermwood Cut Center they would have to pay YOU to use their router.
Instead of looking for the cheapest possible CNC router, do this thing right, get a Thermwood Cut Center….your life will be better and you will make more money.
What our Cut Center Customers Think...
---
More about the Thermwood Cut Center:
Operate as a Cut Center with No Programming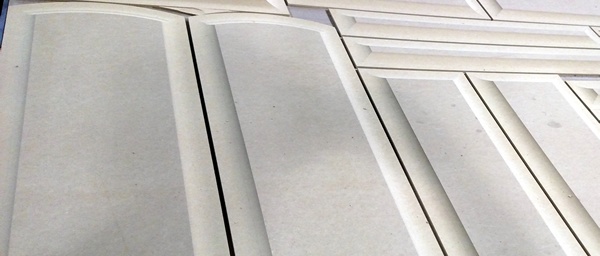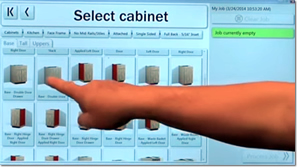 With the award-winning Thermwood Cut Center, there are no computers or design software. Everything is already in the machine. There is no programming. The cut center doesn't need a computer to tell it how to move because it already knows how to make cabinets. Just tell it what you want to make, and it does it - it is that simple!
Operate as a CNC Router
Also, you can operate the system as a CNC router in the traditional manner, running programs generated with virtually any CNC software. Thermwood has created a simple way to switch between operating as a CNC router and operating as a Cut Center to assure that all machine parameters are properly reset and that the standard Cut Center tooling is properly installed, checked and ready to run.