Th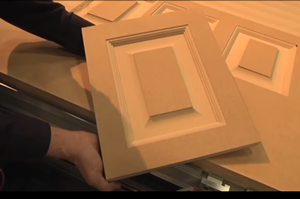 ermwood's Award Winning Cut Ready Cut Center is an alternative to traditional CNC routers for making custom cabinets and furniture with NO programming.
With the Cut Center, you have two choices in how you can operate. You can use it as an easy-to-operate Cut Center (just tell it what you want to make and it does it), or you can use it as a traditional CNC router with CNC Access.
Upcoming Feature Preview:
We are constantly adding new features and capabilities to the powerful Cut Center. Please click below to see a video preview of the newest - the ability to quickly and easily machine MDF doors using standard profile tooling with corner cleanup. Just select the door(s) you would like to make, select the profile, input the size(s) and the Cut Center makes it.
---
---
What Our Customers Are Saying
---
About The Cut Ready Cut Center
Operate as a Cut Center with NO Programming or as a Traditional CNC Router, running programs generated with virtually any CNC software.